What Does It Mean To Be an American?
September 17, 2018
A person can never see his own face. Even with the assistance of a mirror, he only sees the reflection of himself. Similar to the understanding of the identity and the culture of a group of people, it is not explicated shown to those who are in the group. Therefore, as an international student in the US, I have the reason to expect myself to give a more accurate and comprehensive answer to the question "What does it mean to be an American?" For fifteen years, I had been living in China, wondering what an American look like and how they act. Initially, I only knew hamburgers and hot dogs. Fortunately, I had a chance to explore these questions at such a young age when my parents sent me to the US.
The first thing I noticed since I came to the US was free of speech. An American rarely needs to be afraid of any organization or agencies when he talks and expresses his own ideas. In China, almost every word is under strict censorship. Anything goes onto the media or newspaper has to be filtrated carefully so nothing can lead to social chaos. The public has summarized the content of Xinwen Lianbo, a news program produced by China Central Television, as how busy the leaders in the government are in the first ten minutes, how happy Chinese people are in the second ten minutes, and how chaotic foreign countries are in the last ten minutes. On the contrary, American people have the chance to publish or release any ideas to the public. Even if Donald Trump is currently the president of the United States, some people dare to criticize him in an open occasion.
Then, when someone mentioned opportunity in the class, I immediately realized how much this word fits to describe Americans. I have been a student in the US for almost three years, and I have been to multiple cities in the US. Three years, I have met many people who are from foreign countries and come to the US for opportunities. They made their decisions to leave their beloved hometown and start a new life in the US. What attracts them here are the numerous opportunities Americans have. Americans possess their own unique dreams. They strive to be whatever they want to be because they are born with plentifully available paths, which increases the number of opportunities.
Lastly, Americans love their country by caring for people from different social groups. When I am currently in the college application process, I can often see the question of whether I am in the LGBT group and the clarification that they do not factor that into their admission decision. As John Cena says, an American should love all Americans because love has no labels. Americans' willingness to distribute love to every single one demonstrates their strong patriotism. A country that is so united attributes to the characteristics of all Americans.
In conclusion, freedom of speech, opportunity, and patriotism are three signals of an American. As an outsider, I have had an opportunity to think carefully about the question, "What does it mean to be an American?". So far I am pleased with what I have discovered and looked forward to becoming an active member of this society.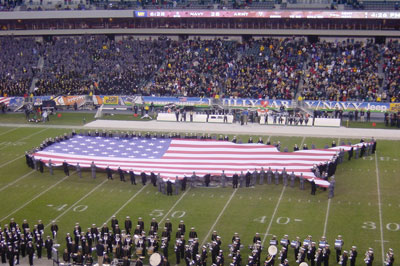 © Kristin B., Middletown, DE