My Musings on the Justin Bieber Fad
July 14, 2010
Unless you live under a rock or in a cave, the chances are you have heard of Justin Bieber (from here out I will abbreviate as JB so my laziness doesn't have to type as much). If not, I will fill you in. JB is a 16 year old pop-R&B singer who makes the hearts of tween and teenage girls everywhere sing. His YouTube performances were discovered by Scooter Braun, who set up a meeting between the Canadian boy and Usher. Shortly thereafter, he signed on to the Raymond Braun Media Group and then got a recording contract with Island Records.
JB was the first artist to have seven songs from a debut album, in this case My World, make the Billboard Hot 100. The album also went platinum in the US. His more recent release, My World 2.0 rose to the top ten in several countries and was also certified platinum within two months of its release in the US.
The pop star also boasts a few fans on Facebook, 6.7 million to be precise, and 3.5 million followers on Twitter. He is searched 29 times more often than President Obama and even has his own search engine, www.biebersearch.com.
"So," you're probably wondering, "if this guy has done so much and is so famous, what is your problem with him?" I will tell you, thanks for asking. It's called "Bieber Fever" and it's coming to a town near you. To put it simply, Bieber Fever is when a whole lot of people are obsessed with JB. There probably a bunch of people out there who are going to write nasty comments because they don't like the way I put that, but that is certainly what it looks like to me.
I think that it's ok to like JB, I don't but that's my opinion, but many people today are majorly over obsessed. My argument for this? www.jsyk.com always has articles tracking JB's every move. In an article about how he cried during a concert when singing "Down to Earth", a song about his parents' divorce, someone with the screen name BraceWinslow commented
"Ohhhhh, I love Justin. He is God. I quit my job so I can sit at home watching his video until I fall asleep around 12 or 1:00am. I always put his photo under my pillow so I can dream about him. He will go down in history being more important than the founding of the United States. I cry from joy when I see him. I sit on the edge of my seat biting my fingernails. I hope one day I may give my life for him."
This, people, is what you call "over obsessed." I realize that most people's reaction to the star are not nearly this dramatic and most people would not die for him, but I'm sure that there are a few other crazies out there like BraceWinslow.
I cannot stand the way people track his every move and must know what JB is doing every second of every minute of every hour of every day. I do not care that Justin Bieber thinks Uggs are ugly or that round sunglasses look stupid. I do not care that JB googles and searches for himself on YouTube. I do not care that JB went bungee jumping in Australia and I do not care that he can drive or that he got a tattoo!
I also do not like his music; if it comes on the radio, I have to change the station or subject everyone around me to my screaming. Ok, maybe it's not that bad. But his international hit song "Baby" drives me absolutely nuts. It seems like over half the song is JB saying "baby, baby, baby, ooooh." If you look up the lyrics online, you see that that's not the case, but it sure sounds like it. I think the reason it bugs me so much is that his songs seem to have no meaning. A Canadian teenager break dancing to songs about his girlfriend may be entertaining to watch, but that's about it. The only thing they make me feel is boredom.
This fact is not helped by the fact that the 16 year old star has not yet undergone a recognizable puberty, so his voice hasn't changed. Harry Potter actor Daniel Radcliffe said, "I only heard Justin Bieber for the first time two weeks ago. I genuinely thought it was a woman singing. I'd never heard it before. Is it big in England yet?" One of my closest friends agrees with this comment, saying, "One time I heard his song and I did think it was someone of the female gender singing!!!! Then I heard the words and realized it was Justin Bieber!"
So people, I will not like Justin Bieber in a box or with a fox or if my best friend marries him (but I think she hates him just as much as I do). I am braced for a lot of really, really nasty comments about haters and that he is amazing, blah de blah de blah. But before you murder my virtual self, can you please remember that everyone is entitled to their own opinion but this is mine and you do not have to agree with me.

I would like to thank www.Wikipedia.org, www. jsyk.com, and of course, www.google.com for helping me figure out some of the details that I needed to get right.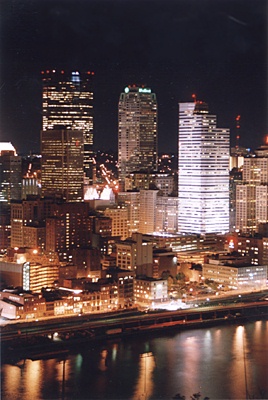 © Dena G., Pittsburgh, PA