Gym Class and Gender Equality
July 25, 2014
There was a point where I didn't even know if I was actually talking out loud.

"Can they hear me?" I thought to myself.

The sun was shining high above my head and I felt small drops of sweat settle on my forehead. I stood on the corner of the soccer field by myself and looked around; on the other side of the field one of the teams scored a goal. All the boys celebrated and continued with the game, behind me, my friends sat on benches after another failed attempt of playing soccer in our gym class.

Why?

Because we are girls.

I wanted to join them; there was no sense on walking around the field pretending to play soccer, screaming like a maniac for someone to pass me the ball, when none of the boys even acknowledge the fact that I was there. But I didn't want to let them win. I didn't want a bunch of stereotypes and stupid ideas to stop me from playing.

I talked to our coach about it.

It was more like a debate than a conversation.

"You lazy girls spend hours sitting under the shade of trees!" He said "Painting your nails and talking about boys."

After a long, heated discussion he decided to give us a chance.

The next day he split us into two teams and explained that goals would only count if girls scored them. For a small moment I felt proud. It wasn't exactly what I was looking for; I didn't want to force boys into passing us the ball, I wasn't looking for special treatment for girls, but it was something.

It lasted a few seconds, feeling proud. After our coach stopped talking, all the boys turned around and walked off the field towards the volleyball court.

The good feeling immediately vanished. It was replaced by something heavy and dull. My mouth went completely dry and a small tear slipped down my right cheek. I dried it off rapidly with my sleeve, hoping no one had seen it.

I have heard thousands of conversations about how far we've come as a society. How some decades ago women couldn't vote or go to school. How now the future is bright for woman and we have the same opportunities as man.

But the fact that a group of sixteen-year-old boys couldn't stand playing with girls, in gym class, at school, changed my perspective.

I can't truly understand how I'm supposed to believe that I will get the same opportunities as men in the future when right now I don't even get the same opportunities as them in my gym class.

And I have heard the argument a thousand times.

"Boys are better at sports than girls because their bodies are built differently."

I know that. I'm not dumb.

That's why in professional sports there's always a man's league and a woman's league, or why there's the woman's World Cup and the man's World Cup.

But that's not a reason to completely ignore a group of girls who, just like you, want to have fun and play some sports. That's not a reason to leave the field when they tell that you will actually have to pass them the ball.

That's not a reason to feel superior or better.

We are girls, and our bodies are built differently. Maybe we are not as fast or as strong, maybe we don't have the same reflexes. But we have the same desire and competitiveness inside us. We have hope, and when we want something we'll work hard until we get it. I say this because even though there still are some differences, it's written all over our history.

We can vote.
We can work.
We can study.
We have a voice.

The next gym class the boys took over the soccer field again, and most of the girls, feeling a little hopeless, decided to do something else.

I was about to give up too, but then I thought about all the women who have fought hard to get us where we are. And, I thought about how it must have been hard.

So I walked on the field, and I ran, but I didn't ask for the ball anymore, I fought hard for it. When I finally got it I dribbled towards the goal, pretending not to hear all the shouting that asked for me to pass the ball.

"I can't hear you." I thought to myself.

When I got into the box, there was just the goalkeeper and me. With one swift movement I shot the ball towards the lower corner and I heard the smooth sound of the ball and the net coming together for one quick instant.

I realized everyone had stopped shouting, and when I turned around all eyes were on me.

Can you hear me now?

Yes you can.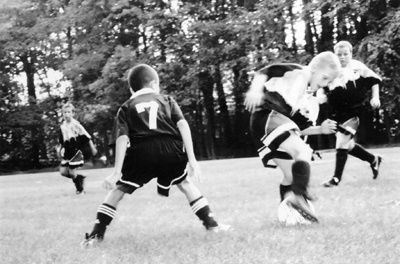 © Daniel W., Mount View, NJ