Sonja Steinbach, Math, Washington State School for the Blind
April 25, 2015
Everyone always writes about people who have done amazing things; like raising a million dollars for the homeless or hungry, or going to India to build wells. In the eyes of others, Ms. Steinbach may seem like just another teacher. For me though, she's anything but ordinary. So, stop reading now if you don't want to hear about what you think will be some run of the mill math teacher. I assure you though, you'll be surprised about what you find out.
I'm part of the minority whose favorite subject is math. I've always liked numbers, little interesting symbols that hold great meaning behind their innocent facades. The subject never really challenged me, that is, until I started Algebra 2 several grades early and met Ms. Steinbach.
The Washington State School for the Blind has a student population of around 40. Ms. Steinbach's 5th Period Algebra 2 class consists of three students; two in the classroom and one who attends via Microsoft Lync, a video conference program. Walk into the class on an average day, and you're met an unusual sight.
A tall, slender, well-dressed senior sits at one table, while a white-haired, button down shirt wearing girl sits at another one. Ms. Steinbach sits with her back to the two, in front of two computer monitors, trying to get Lync to work. She mutters complaints aloud, and the boy and girl laugh at her antics.
Sooner or later, a voice is heard through a hockey puck looking object, and Ms. Steinbach cheers in success. She stands up and goes over to where her book sits, before immediately diving into a new section. The class moves at a rate of one section per one or two days. In front of her, the boy and girl follow along, while not taking diligent notes.
You may be thinking that the class seems normal enough, but before you jump to conclusions, let me provide you with some more details. Ms. Steinbach, like all of the students at the school, is visually impaired. She has Achromotopsia, a condition that causes a decrease in visual acuity, light sensitivity and the absence of color vision. This is also her first year of formal teaching.
Math teachers of the visually impaired are hard to come by, and after one of the math teachers left to go back to college last year, the school went in hunt of someone new. Luckily for them, a previous student of theirs, Sonja Steinbach, happened to be fresh out of college and in search of a job.
Throughout the school year, Ms. Steinbach has proven to be an admirable teacher. Trying to explain a very visual subject, to visually impaired students, while visually impaired yourself, isn't an easy task. Ms. Steinbach isn't one to give up though. Complain, well, yes, but give up? No. Her style of teaching is both unique and accessible, and the way she explains concepts and supports her students has helped me through some rough patches this year.
This was the first year that I really struggled on a unit, and ended up with a low grade on the subsequent test. I was upset; I'm a perfectionist, and had never gotten such a low grade on a math test before.
Since I feared that I'd still end up with a low grade even after I corrected the test, Ms. Steinbach offered to help me during Advisory and after school. Over the course of a few days, and through her patience and clarifications, I was able to raise my test grade to a B. Still not an A, but much better than what it previously had been.
Ms. Steinbach is an amazing teacher. Having a teacher who can relate to you, and shares your passion for math, is a rare and precious occurrence. She's also living proof that I can survive college. I look forward to my post-high school career, especially the new and exciting math classes that I'll take, but I nonetheless held fear for the future. What if I'm not smart enough? How will my visual impairment impact my success? Ms. Steinbach helps prepare her students for college, using real life experience. She introduces ideas that wouldn't otherwise be taught, and gives advice to help promote her students' future achievements.
My worries for the future have long been silenced, and, because of a certain teacher, I'm ready for whatever this world decides to throw my way. I know that years from now, when I've graduated college, have a Master's Degree, and a job, I'll look back on my school years, and Ms. Steinbach will be one of the first people I'll thank for helping me succeed, and make it in a world full of sighted people.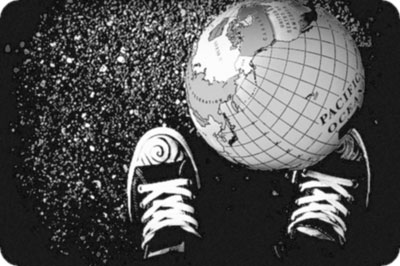 © Kailey E., Crownsville, MD