Olive Ridley-Save from Extinction
December 3, 2011
Everyday thousand of marine animals were being cruelly killed in many parts of the world. Most of them were for money. It grew worse after egg collection becomes legal in 1987. Many species of sea animals are in the verge of extinction. It includes whales, turtles and many kinds of fishes. Latest technological advances have increased the threat to the marine animal, especially for turtles. It's believed that many species of turtle already got extinct and seven species of turtle are in the verge of extinction.


Olive Ridley is one among the seven breeds that are in the verge of extinction. Olive Ridley turtles have some unique features. It's the small extinct turtle. It has hear-shaped carapace.It's believed that the skin of Olive Ridley turtles has medicine value. Besides that, it's now being haunted for its bait, oil and leather. Olive Ridley's eggs are expensive, and it can be sold for high rates in black market.





Olive Ridley use to lay eggs between December and April. It uses to come to the beaches in nights to lay thousands of eggs in the nest. According to the latest reports' Hunting of these eggs is increasing day by day cause collecting eggs were considered as legal by many governments. Even though it's considering as an acceptable act of the Governemnt, just because it's an endangered species we have to do something to stop this cruel activity. Other wise it may be impossible to see Olive Ridley before 2020'-One Local newspaper of Mexico told.

Turtle walk is a voluntary group. It mainly comprises students who are working hard to save turtles. Besides being hunted, the young hatchling had many other difficulties. Once they came out of the egg. The young hatchling were gotten attracted by the street light, and they use to move towards it. It leads to crush of them by Traffic.

The volunteer students who are working in Turtle walk use to have a long walk over 6-7 kilometers in the beach on the months of November and December to find the nest of them. They use to collect the eggs from the nest and use to keep it in the safe place. After hatchling emerges out from the eggs, they are taken back to the sea safely. It is really nice experience to watch the young ones coming out to have their first sight of this world, as it is an old age process (have been doing more than a 100 million years).

'Turtle walk' was now nearly started in many places of the world, especially in the places which are in the coast.'Turtle walk' is one of the organizations that is trying to creating awareness among the teenagers and also the organization that is trying hard to do some positive sustainable changes in the environment.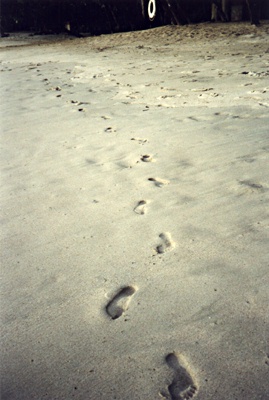 © April W., Rogersville, MO