The Scottish Play
October 5, 2016
(Scene One, before call. The stage is dark except for the ghost light, a single lightbulb on the stage. MIRANDAenters, hands in pockets, whistling "On My Own" from Les Miserables. JESSICA sneaks up behind her and causes her to trip into the ghost light. The other lights come up)
MIRANDA
Jessica!
JESSICA
Oh, hi, I didn't see you there.
MIRANDA
Oh, please. You're a half-hour early.
JESSICA
If you're on time, you're late.
MIRANDA
Well—uh—you—you almost made me break the ghost light!
JESSICA
What's a ghost light?
MIRANDA
You don't know about the ghost light?
JESSICA
(sarcastically)
No, I know all about the ghost light. I was just asking "what's a ghost light" for fun. (beat) So what's a ghost light?!
MIRANDA
Well, it's sort of a superstitious thing.
JESSICA
Oh, like you thespians' whole deal with Mac—
MIRANDA
Stop!
JESSICA
What?
MIRANDA
Don't you dare say the name of the Scottish play! I've got enough bad luck hanging around this dress rehearsal already!
JESSICA
Fine. (pause) Mac—
MIRANDA
No!
JESSICA
Duff! Macduff! I was just saying Macduff!
MIRANDA
Yeah, right.
JESSICA
So what is it? What's the purpose of this ghost light?
MIRANDA
Well, it..um..uh…depends on who you ask.
JESSICA
Oh?
MIRANDA
Some people say it's there to keep ghosts off the stage so that they can't perform their own plays while the actors are gone. But…um…some people say it's there to attract ghosts so they can perform their own plays while we're gone.
JESSICA
Or it's because it's extremely dangerous and impractical to walk around an unlit stage?
MIRANDA
Well…I mean…that doesn't sound very practical…
JESSICA
Whatever you say, Madame Director.
MIRANDA
Listen, Jessica, I know you're a fantastic Juliet, but Hamilton High's Royal Shakespeare Company can't afford any more bad luck than it already has. So keep the ghost light onstage when we're gone. Never, ever, ever say "good luck", it's bad luck. And absolutely no saying the name of the Scottish play!
JESSICA
You mean Mac-
MIRANDA
Don't you dare! (pause) Are the costumes ready for final dress tonight?
JESSICA
Oh, yeah. Olivia and I are just finishing up Romeo's hat, and I thought it would be lovely if there was a peacock feather in the brim.
MIRANDA
Terrible. Don't bring that hat anywhere near this theatre. Burn it. I don't care, just never let it touch any of my actors, ever.
JESSICA
Let me guess. Peacock feathers are bad luck?
MIRANDA
You got it, sister.
JESSICA
Well, I'll just go upstairs and burn Romeo's hat, then. Hey, do you want Mac—
MIRANDA
(leaps at JESSICA)
Ssshhhhh-sh-sh-sh-sh!
JESSICA
Donald's! I was going to ask if you wanted any MacDonald's!
MIRANDA
Just go!
JESSICA
Alright.
MIRANDA
Thank you.
JESSICA
Oh, and Miranda?
MIRANDA
Yes?
JESSICA
Good luck!
(BLACKOUT.)
(Scene Two, before final dress. Lights up on the stage , without the ghost light. A crowd of teenagers sit around MIRANDA. JESSICA and PERDITA are among them)
MIRANDA
Alright, Royal Shakespeare Company. This is your moment to shine! Not one hour from now, every student in the whole school will be filling up the house, ready to watch our final dress rehearsal. Now is the time to prove to those students that Shakespeare is more than a picture on a poster in the English classroom! Now is the time to bring Romeo and Juliet to life, and eventually to death by the end! I'm not going to lie. These kids are going to be tough. They don't like Elizabethan English. They like (shudder) sports.  But I know we can do it, everyone! Break a leg!
PERDITA
You hear that, Jessica? Not good luck, break a leg.
JESSICA
Lovely. I pick yours.
PERDITA
Miranda, you have to do something about this girl!
MIRANDA
Believe me, I've tried.
PERDITA
She's going to bring us all bad luck! Can't you just kick her out of the show? She has a fabulous understudy.
MIRANDA
I know, Perdita, it's you.
PERDITA
She doesn't have any experience in the theatre!
JESSICA
Excuse me? I've done a ton of Shakespeare! At my old school, I was in Mac—(the cast frantically shake their heads. JESSICA sighs) The Scottish play, fine. I played Lady Mac-
MIRANDA
No!
JESSICA
Lady The Scottish Play?
MIRANDA
That's better.
PERDITA
I know a ton more about Shakespeare than you do, Jessica. "You're but a filthy piece of work".
JESSICA
Was that a Shakespearean insult?
PERDITA
You bet it was, "good tickle-brain"!
JESSICA
No one can out-Shakespearean insult me! You all are just a bunch of "mad mustachioed purple-hued maltworms"!
PERDITA
How dare you! You "milk-livered man"!
JESSICA
Oh, please, you're "duller than a great thaw".
PERDITA
Can you guys believe this crazy girl? "If her breath were as terrible as her terminations, there were no living near her, she would infect to the North Star"!
(two girls, OLIVIA and CORDELIA, jump up and join PERDITA to start a rapid fire of Shakespearean name-calling)
OLIVIA
Yeah! You "fat and greasy citizen"!
CORDELIA
You "roynish clown"!
OLIVIA
You "quintessence of dust!"
CORDELIA
You "pigeon-liver"!
JESSICA
Oh please! "You should be women, yet your beards forbid me to interpret that you are so"!
(the rest of the cast "oohs" while CORDELIA and OLIVIA sit down in shame; they have been beat. PERDITA is still standing, but beaten)
Yeah, that's right! That one's from Mac-
MIRANDA
Stop! That's enough! Backstage, all of you! The audience is starting to come in!
(the cast files pasts MIRANDA. She stops JESSICA when she gets to her)
Listen, Jessica. Go easy on Perdita, OK? You're fantastic Juliet, but please, just don't get into any more Shakespearean insult battles or anything. I want to be able to keep you in the show.
JESSICA
(soberly)
Alight, Miranda.
MIRANDA
Thanks. Break a leg.
JESSICA
Yeah…that.
(SHE exits)
MIRANDA
(nervously, to audience)
Alight. Hi, everyone. My name is Miranda Bard and I'm part of the Royal Shakespeare Company (quietly, trying to obscure the fact that this is not, in fact, the real royal Shakespeare company) of Hamilton High School. (normal volume) I am the director of Romeo and Juliet, which you are here to see today. Please remember that this is not a real performance, but a final dress rehearsal, and the actors may have to stop to receive direction…or get into fights with one another. But we hope you enjoy our show and will come back to see it tomorrow, on opening night. Ladies and gentlemen of Hamilton High, I now present to you the final dress rehearsal of Romeo and Juliet!
(blackout)
(scene three, after final dress. Lights up. The cast is scattered around the stage, half-costumed, miming conversation in the background, eating cookies, and drinking punch. JESSICA can be seen silently arguing vehemently with CORDELIA and OLIVIA. MIRANDA and PERDITA are talking in the corner of the stage)
MIRANDA
That was terrible!
PERDITA
Terrible!
MIRANDA
This is going to be bad. We'll forget our lines, and then we'll die! Tomorrow is going to be the worst opening night in Shakespearean history!
PERDITA
In all of history!
MIRANDA
What are we going to do, Perdita?
PERDITA
I've known what we should do all along. Kick Jessica out.
MIRANDA
You know I can't do that, Perdita.
PERDITA
You're the director! You can do whatever you want! It's obvious that she's brought us bad luck. I think she said the M-word.
MIRANDA
She wouldn't—not for real. She just teases.
PERDITA
How can you be sure? She could have whispered it when no one else was listening. You've got to make her undo the bad luck, or else throw her out of the cast.
MIRANDA
You really think she said it?
PERDITA
I know she did! How else could we have gotten all this bad luck hanging around us?
MIRANDA
We are pretty unlucky. That was the worst a dress rehearsal could possibly go!
(JESSICA, who has been eavesdropping, butts in)
JESSICA
Excuse me? What do you mean?
MIRANDA
I mean this rehearsal couldn't have gone worse!
JESSICA
Are you kidding? Did anyone forget any lines?
MIRANDA & PERDITA
No.
JESSICA
Did anyone fall off the stage?
MIRANDA & PERDITA
No.
JESSICA
Did all of the actors do a good job?
MIRANDA & PERDITA
Yes.
JESSICA
Did the audience like it?
MIRANDA & PERDITA
Yes?
JESSICA
Then what's your point? It was a fantastic final dress!
MIRANDA
That's exactly my point!
PERDITA
That's exactly her point!
MIRANDA
Everyone knows that having a good final dress rehearsal is bad luck!
PERDITA
You didn't know that?
JESSICA
No, of course I didn't, because it makes no sense; none of this makes any sense! You and your stupid superstitions, they're going to ruin the show, and all of the friendships within the cast! Miranda, you just want to be in control, and you, Perdita, just want to be right. But face it, you're not right! You're wrong! So, so wrong! And Miranda, you're not in control of what happens on that stage, any more than you're in control of what happens in real life.
PERDITA
So what's your point?
JESSICA
My point is that I'm going to teach you cowards a lesson. I'm going to show you to stop being scared of what could happen. I'm going to say it.
PERDITA
Not that!
JESSICA
Yes that!
PERDITA
Anything but that!
JESSICA
I'm gonna say the name of the Scottish play!
MIRANDA
Don't say it!
JESSICA
I'm gonna say it!
CORDELIA & OLIVIA
Don't say it!
JESSICA
I'm gonna say it!
ALL
Don't say it!
JESSICA
I'm gonna say it!
PERDITA
Don't you dare say it, Jessica!
JESSICA
Oh, you know I'm gonna say it now, sister.
ALL
No!
JESSICA
Mac-
MIRANDA
(bellowing, jumping to face JESSICA)
Get out!
JESSICA
What?
MIRANDA
(shaking, trying to keep her anger under control)
I said, get out. Get out of my theatre this instant and don't you dare come back.
JESSICA
What? I-I just—
MIRANDA
No! I don't want to hear it. My play, my first play I ever directed, is going to be ruined by bad luck, and it's your fault, Jessica! (becoming emotional) Don't you get it? My mom is going to be here tomorrow. She's going to be here, I know she will. She said she'd come and see it, and this time I really think she will. And thanks to you, all she's going to see is a big, fat, bad-luck-ruined mess, and that is your fault! I don't want to see you on my stage or anywhere else ever again. (calming herself) You do what I say. You're not welcome here anymore. You're out of the cast. Go.
JESSICA
Miranda, I didn't mean anything by it, I just—
MIRANDA
I said I don't want to hear it!
(for the first time in her life, JESSICA is defeated. Slowly, her head hanging, she starts toward the exit. PERDITA, CORDELIA, and OLIVIA smirk as she goes)
Leave the costume, Jessica.
(JESSICA takes off her dress, under which she wears a t-shirt and shorts, and leaves. The cast watches her go, all solemn except for PERDITA, who gives her a little wave and trips her on her way out. After she is gone, the cast looks nervously at MIRANDA, unsure of what to do)
MIRANDA
(softly)
Put on the costume, Perdita.
PERDITA
What was that, dear?
MIRANDA
(not amused)
Put on the costume!
PERDITA
I know, I just wanted to hear you say it again! Hello world, my name is Juliet Capulet!
MIRANDA
Take five, everyone, and call your parents. We're going to run this thing through again with our new lead.
(the cast buzzes while PERDITA models the costume and MIRANDA sits hopelessly on the corner of the stage. BLACKOUT)
(Scene 4, after opening performance. The stage is completely dark. MIRANDA enters, whistling "Empty Chairs at Empty Tables" from Les Miserables and carrying the ghost light. She sets it up in the middle of the stage and wipes away a tear. She is turning to go when JESSICA emerges from the audience and all lights come up.)
MIRANDA
You!
JESSICA
I come in peace; please don't yell at me!
MIRANDA
What are you doing here?
JESSICA
I don't know, I kind of like Shakespeare. Thought I'd check this show out. (beat) Look, I'm sorry. I'm sorry for teasing you all for your very sacred superstitions, and I'm sorry for yelling at Perdita, and I'm sorry for putting itching powder in her street clothes!
MIRANDA
What?
JESSICA
Oh, forget it, you'll find out soon enough. You know, I would have gone differently on the casting for Juliet, but it was a good opening night.
MIRANDA
Don't lie to me.
JESSICA
Alright, it was terrible. Perdita's not… good.
MIRANDA
At least my mom didn't have to see it.
JESSICA
She didn't…
MIRANDA
She had to work.
(both girls are silent for a moment)
I'm sorry too.
JESSICA
That's what I was hoping for.
MIRANDA
I just didn't want to take any chances with that good luck, bad luck stuff. When I acted in shows, my mom didn't come, but I thought that since I was directing now she might…I just wanted it to be good for her.
JESSICA
I could help.
MIRANDA
Jessica, did you really do it?
JESSICA
Do what?
MIRANDA
Say it. You know, the Scottish play.
JESSICA
No, Miranda. No, I didn't say it.
MIRANDA
Then…that must mean this luck stuff is a much of bologna, huh? That we were so worried about the superstitions we messed up the show ourselves.
JESSICA
I guess so.
MIRANDA
I'm sorry for accusing you, then. You didn't mess this show up. Would you be willing to come back and save it?
JESSICA
If I must.
MIRANDA
Good. Let's go, then. (she turns off the ghost light) We don't need that anymore, do we?
(both girls walk happily to the exit and MIRANDA starts to whistle "Do You Hear the People Sing" from Les Miserables)
JESSICA
Miranda!
MIRANDA
What?
JESSICA
You're whistling!
MIRANDA
Yeah, so?
JESSICA
Last night, I researched theatre superstitions. To…you know...impress you. (MIRANDA giggles) But every book or website I saw said whistling in a theatre was bad luck!
MIRANDA
Really?
JESSICA
Yeah, I'm sorry.
MIRANDA
No, this is great! To reverse bad luck, you just have to go outside the theatre, spin around three times, spit, and say a Shakespearean insult! I'll do that and tomorrow's show will be fantastic! Come on, let's go!
(both girls run towards the exit, but JESSICA stops)
JESSICA
Hold on. I think I'll turn that ghost light back on now. You know, just to be on the safe side.
MIRANDA
Just to be on the safe side.
(MIRANDA exits and JESSICA goes to the ghost light and turns it on. The rest of the lights go out, and JESSICA's face is illuminated by the ghost light alone)
JESSICA
(loudly, joyfully)
Macbeth!
(she turns off the light and the stage is black. End.)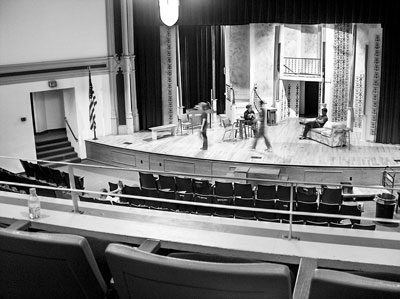 © Sean C., Princeton, IL