The Hidden Giant
February 6, 2013
She was one of the few who heard him. And in the middle of the night, too. When she and her family moved to their new home, she almost immediately took interest in the village. After a while, she heard about the legend of the giant who lived 20 feet from her house. No one knows where he came from or how long he lived here, but all they knew was that when they built the village from scratch, the castle and its towering platform it rested on were there. The castle was way up into the sky and above the clouds. On cloudy days, you couldn't even see it, only the skinny, solid-rock stem that rooted from underneath the castle's base.
They also said that every new moon, when everything was dark, the giant would wail in his misery from above. Only a few who are close enough to the stem could hear it in the middle of the night. Then, an hour later, the giant would climb down onto the earth and wring out his handkerchief of his fresh tears. The girl now hoped to witness this sort of event that happened monthly. Finally, when the new moon arrived, she was awakened from her slumber by the giant's distant bawling. As she heard it, she thought it was unsettling, yet…heart-wrenching.
Although the wailing wasn't loud enough to keep her awake, she couldn't go back to sleep. She kept thinking about the giant and how sad he must be. Oh, so many reasons for a being like him to cry like that, to live alone high in the sky. To not come out of his sanctuary until each new moon…There must be a reason he does not want to be seen, she thought as she lied in bed. Then, an hour later, the sound stopped.
She rose from her bed to peek out the window to see him despite the almost total darkness. Suddenly, she heard a soft thumping and the ground shook a little with each thump. Then, she saw him. Well, his silhouette, anyway. From what she could make out, he was a colossal being, no taller than the fort surrounding a castle. He seemed to be quiet as though not to disturb anyone and frighten them. He then stopped and, with his back turned, squeezed something hidden from the girl's view.
After a moment, she realized what it was: his tear-filled handkerchief. She heard a sound that was like the pitter-patter of tiny raindrops. It lasted for what seemed like five minutes, and then the giant quietly made his way to the stem and climbed up rather quickly. This left the girl wondering what her next move would be. Should she leave the matter well enough alone, or climb up the stem to explore the castle up above…and possibly meet the giant?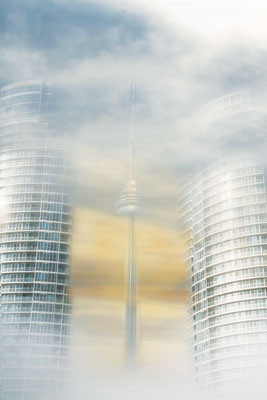 © Micha C., Toronto, ON, Canada