Child's Play
April 26, 2010
''Are we there yet?'', Leah whined, impaitient. No one answered, so she asked again, but louder. I shot one anoyed look at her, and she made a face. It was bad enough being forced to stay against my will at my parents friends house for the weekend, but I had to share a room with my extremley irritating sister. My family, and I unfotunatley, were staying with them at thier home in ............ for 2 weeks. I didn't get on well with thier son, a year older than me, so I was dreading this trip. I had never done anything to Ryan, and the only times I see him, he completely ignores me. He always looks at me with a confused expression, like he is trying to figure something out. I haven't seen him in two years though, so maybe he's changed. I might actually get to talk to him this year. We had pulled up at thier holiday house, and Leah was the first one out. The house was surrounded by a huge forest, nearly all of the trees were pine trees. It looked like a country house, with wood panelled windows, and cream coloured shutters, once white, darkend by weathering, hanging baskets hung on both sides of the door, and wild flowers grew on the border of the forest. There was a narrow stream running alongside the house, and on the other side, an extended garage, and a small wishing well, overflowing with ivy. I secretly hoped that they were gone out or moved, but then I noticed a red jeep at the side of the house. Great, I thought, they're here.




When I gathered my things and walked in, I was greeted by Tesse and Harry, my parents friends. I looked around the room, to see if Ryan was with them. He wasn't, so I dragged my stuff up to the bedroom where I was staying. The room was quite large, with two single beds either side of the room. Leah's things were thrown on the bed she claimed, the one nearest the window. I sighed and threw my stuff on the floor, and sat on the edge of my bed. The room hadn't changed much since I was here last. The same wood panelled walls, just like the outside of the house, the same oak flooring, the same wooden furniture, in fact, the only thing that changed were the bed spreads, once blue now purple. I remember jumping from bed to bed when I was five, and hidding in the massive wardrobe playing hide and seek with Ryan. Back then he used to talk to me, and now, I dont even get as much as a hi. The noise of my dad's booming laughter downstairs broke my train of thought. I went downstairs, into the wide, open kitchen, to find all the adults around the table, talking and joking. Ryan caught my imediate attention, leaning against the kitchen worktop. As soon as I had walked in, he stiffened up. I was expecting that, but it still made me feel self-conscious. He just stared at me, which made me uncomfortable. I lowered my head and walked over to the table, found a seat and sat down. ''So, Eva, how's life?'', Harry asked. ''Um, great'', I replied, my head still lowered, wondering if Ryan continued staring at me. Suddenly, Ryan's little brother, Thomas, came running in the door, with the biggest grin on his little face. ''Auntie Laura, Uncle John!'', he said, with so much excitment. Thomas had always thought of my parents as his auntie and uncle, beacause my mom and dad visit them often. He was always happy to see me, unlike his older brother, and ran over to me. ''Hi Eva'', he said, and gave me a hug, even though he only reached my hip. ''Hey, Tom'', I replied, returning the gesture.



The parents started talking about finance, and thats when I made my escape. I walked past the living room, where Thomas had occupied himself with one of his farmyard play sets, out the door. The weather was temperate, and the clouds were still. The sun was shining, but little warmth reached the ground, which was why I brought an extra jacket. Even though it wasn't freezing, I was shivering. I stared at the forest for a while, debating with myself to venture forward or go back inside. I didnt feel like prentending to be interested in thier coversation, so I started to walk. I had never been great with the outdoors, even though my dad was a nature enthusiast, and my lack of balance didn't make it any easier. The forest was damp, cold, and I could smell the wet leaves on the ground. I listened for any form of life, but all I could hear were the leaves and pine needles making a smushy sound beneath my feet. I didn't have any particular destination, so I was just wandering. I looked behind me to see if I would be able to find my way back, when I suddenly gasped ''Oh''. I turned around fully and standing there, about three metres away, was Ryan. He was so still, like he was a solid piece of beautiful art in the forest. He took one step forward, but hesitated. My voice broke the silence. ''Ryan?'', I breathed,''What the hell are you doing, you scared me to death''. When he spoke, he sounded like an angry parent scolding a child,''Why are you out here?''. His voice was hard, and he looked almost frustrated. ''I just wanted to take a walk, I guess'', I tried to sound casual, but I couldn't hide the surprised tone in my voice. This was probably the first time I had talked to him in five years. His eyes narrowed, and I looked away. He then sighed, and said ''Just don't come out here again, okay?''. I didn't take lightly to being told what to do, especially from someone who ignores me. I stepped forward, and he turned his back to me. ''Oh, yeah, real dangerous'', I said in a sarcastic tone, raising my hands and gestureing at the lifeless forest. Ryan turned his head slightly, and said ''Just go''. I gave the wood one last look, and stormed past Ryan, back to the house. The only time he talks to me and he tells me what I can and cant do. I pushed the front door open and slammed it shut. Tesse had the dinner made already, but I was so worked up I didn't have an appetite and stomped up the stairs to my room.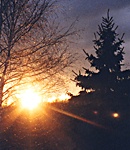 © Christy S., Germantown, NY