Familiar Girl
March 25, 2010
I cannot help but stare. It is her. I know it is.

I had thought I would never see her again. When I had led her to Cara, I had thought I was done. But I obviously am not.

She is much like I remember. Her hair is still that pretty honey-gold, and it frames her oval face perfectly, with the breeze tugging at it gently. Her skin is creamy, while her cheeks are rosy from the wind. Those bright hazel eyes still cannot decide what shade they want to be, whether it is forest green, warm brown, or somewhere in between. They are very expressive, talking to me even while her pink, cupid-bow mouth is closed.

Of course, she has grown since the last time I saw her. She has turned into a very beautiful young woman. I cannot help but wonder if she is the same sweet girl that pet a stray so gently, even while most small children would hit or pull a tail.

She stares right back at me. There is curiosity in her eyes, and just a flicker of confusion. That flicker makes me worry for a second, but then I quench my uncertainty. She does not recognize me, for how could she? I have never shown her my human form. To her, I am just an anonymous man.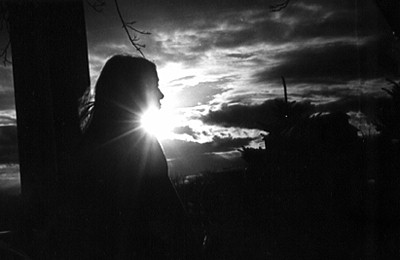 © Elizabeth G., Marblehead, MA