Tunnel Vision
February 20, 2019
The stagnant subway smelled like wet cardboard and stale, processed food; not that there were any food vendors actually down there, anymore. The mundane gray tile was damp with the rain that dripped from train passenger's boots, and was dingy with sloppy mud. None of the innumerable people awaiting their next ride noticed the undesirable state of the subway, though. All of them merely stood there, stiffly robotic and soulless. It was so silent in that sordid underpass that you could have heard your breathing echo through the tunnels.
No one new how long they had all been standing there, nor did anyone care. They would stand, and they would wait, until the conductor told them not to. Then, they would pile onto the train—all the while enthralled by their perpetual reveries—blindly following some unseen leader. This is precisely what occurred, when the train finally arrived. Yet, again, no one noticed this odd behavior; since the pseudo-lives they all lived were much more rose-colored than this miserable place. Well, no one noticed, except for one man.
As he piled onto the train, along with the rest of the automatons, and sat in his designated seat, he could no longer hear Nirvana. He hadn't taken his earbuds out of his ears, nor had he paused his playlist. Suddenly, all he could hear was the chug-chug of the train—it was like he had gone deaf. Although he could see his fellow passengers talking, the murmur of conversation had disappeared. That noisome miasma of various colognes, perfumes, and body odor had also dissipated. The summer humidity had turned into cool, dry air. It was as if everything around him looked normal, but his senses of smell, sound, and sensation were experiencing an alternate realm. Eventually, even his sight began to fade away, and reality bled into his reverie.
This man's idyllic retreat was but a halcyon within a world of cold, metal wilderness. He was surrounded by a new dimension that his mind could not remember but—now that it was freed—his soul already knew. The graffitied train walls had turned into sleek, shining sheets of metal. The train cabin stretched into a monotonous, narrow corridor—the end of which the man could not see. He was inside an industrial cage, but his roommates didn't seem to mind. The colorful, assorted street clothes the passengers had been wearing morphed into black jumpsuits and boots. They all sat upright, immobile, and utterly silent. That wasn't the worst aspect about the demons of this hell-ride, though—it was their eyes.
The woman who sat opposite the horrified man was dead in her eyes. She breathed ever so softly, and gently, like she was sleeping, yet her eyes were wide open. All of them were virtually asleep, though, except for this one man.
"Hello?" He tentatively whispered, attempting to rid his ears of the static white-noise of silence.
"H-hello?" He spoke a bit louder. When no one responded, daringly, he stood up. The lethargy produced by years of corporeal coma choked his muscles and heaved them towards the corrugated floor like an electromagnet. As his lamentations of agony ricocheted off the metallic walls of the railcar, the cramps crawled up his legs like spiders, and invaded his spinal cord like maggots boring into their last meal. Suddenly, the gentle yellow lighting of the train turned glaring crimson.
"Escapee alert! Escapee alert! Emergency stop." Was what bellowed from the train's interior speaker.
The train jolted and quaked like a turbulent aircraft as it abruptly halted. The blinking neon lights spotted and distorted the man's vision. As the sweat dripped from his brow, the alarm began speaking again.
"Analysis complete. Subject 0-4-0-2-1-8's Vision has expired."
The doors abruptly slid open, but no one entered. From what the subject could see from the disorienting train car, the subway was a ghost town littered with detritus and stained with a rainbow of alien substances. He hadn't known where he was going, nor where he had come from, he just knew that he had to be someplace else other than here. Hauling himself towards the door, his legs still in agony, he groaned and heaved heavily.
A faint tip-tap began to reverberate throughout the empty subway. It slowly creeped through the halls, gaining momentum and strength, until it settled into a desperate, insidious rhythm. With each tap, the heavy thuds grew louder and more urgent, like weeds devouring an old cottage. Just barely before the subject could heave himself onto the platform, two black boots blocked his path. Regretfully, he looked up.
Staring down at him calmly, placidly—almost curiously—was a man with wide, plain-white eyes. The subject, distracted and looking for any excuse to look away from the hollow expanses of insanity staring down him, glanced towards a soft thud that came from his left. Another man, with the same macabre mask, stepped through the opposite sliding door. Mere moments passed—those of which seemed like an eternity to the catatonically rendered subject—before the two shells of men seized him.
"I… Can you please--I don't know where I am." The subject's meek voice quivered and echoed as the shells dragged him through the squalid subway. He clumsily attempted to scramble to his feet, but the needles terrorizing his spine and calves mercilessly pierced his skin. As he wailed, he began sputter, "You're hurting me—please lemme go—I din't-do anything."
Neither of the ghosts paid any mind to the subject's distressed stammering and struggling. His protests merely reinforced the zealous nature of their hauling.
######
The subject soon found himself within an bright, white room restrained to a hospital bed. The soldiers had left him here, and moments had passed with nothing but the feeling of dread, and the ticking of the clock on the wall. A woman in a lab coat suddenly stepped through the door in the corner of the room. She peered at him momentarily with her hazel eyes, before strutting over to the sweaty man. As she approached him, not only did the click-clacking of her heels somehow calm the subject, but the sight of a person with pupils did as well.
"Subject...0-4-0-2-1-8, your location is Company Incorporated. Your Vision has expired, my job is to remove it. Afterwards, you'll be set free." She spoke to him with empty words, as if she had countless other "jobs" to complete before the day ended.
As she reached to grasp a contraption from the table behind him, he slightly lifted his head up and said, "Sefree? Whem I? W-wha-company? Did you see those...things?"
"The Company. The last company—the Company of all companies," she roughly pushed his head back down on the bed, "Hold still."
"Wh—"
She forcefully strapped his head down to the bed and bent over him, holding the slender, cylindrical device with fastidious precision.
"Stop," he protested, yanking on the restraints, "Please, don't—"
The woman's gloved fingers carefully widened his eyelids. Then, she shined the light from the device into his pupil. Afraid to fidget for fear of undue injury, the man was as still as the passengers on the train. Promptly, the woman shined the same queer light into his other eye, and backed away.
"Whawas-zat for?"
"I told you, to remove your Vision." She matter-of-factly-stated.
"My-Vision my-Vision, what!" His voice had as much volume as that blaring alarm.
Frustrated, he began grinding uncomfortably against his restraints, "Oh, someone please help-me."
As he looked longingly at the ceiling, distrait, the woman, without warning, injected a needle into his neck. Exclaiming, he said, "What are you doing temee? Why won't you-just tell me what's going on? Why won't anyone answer my questions?"
"S'not my job…" She said, as she tossed the needle back onto the tray and click-clacked her way back out of the room.
Before the door could even close entirely, another woman, clad in a costume of veneer, entered the room; bringing the same two husks of men that apprehended him with her. Immediately, as if it were an inborn instinct, the subject tensed in the bed, and futilely attempted to escape. Impassive, the shells released his wrists and ankles from the restraints while the woman stood adjacent. As she listlessly waved the shells outside, the wary subject dazedly sat up from the bed.
"My name is Dr. Grey. I'm sure you have many questions about what's happened to you. I'm here to answer them for you." She chirped, and smiled a plastic grin. Her entire demeanor was counterfeit and contrived, like she was wearing a porcelain mask. The way she looked at the subject was enough to make his blood curdle and his hair wither and whiten. At this point, he was wishing for the other doctor to return, strutting her unfiltered insouciance.
"What did that lady stick in my neck—in the needle?"
"That was merely a solution of valium and morphine she used to help relax your muscles and allay your anxiety. All we want to do is help you—as much as we can—through your transition." She recited.
"Transition? What's a Vision? Why—how did I get here? My brother, Jerry, is he here too? I just—I'm completely lost." He awkwardly adjusted himself on the bed.
"It pains me to reveal this to you, subject 0-4-0-2-"
"My name is Jim." He indignantly declared. She smiled at him, like a mother would smile at a naive child.
"Jim," she paused, "Jerry—the person you're thinking of—is not real, anymore. He was a computer-generated artificial intelligence that was based off of your memory ingrams of him. The Vision that you are referring to, is the technological device that was used to produce the computer-generated world that you have been living in for that past 28 years. You have never left this facility since the War of 2118."
"28 years? My family…"
"Unfortunately, your family was one of the many casualties of the nuclear war. In your mother's will, she devoted her life savings to putting you in this program for as long as the money would last. Your subscription to Company Incorporated has now expired."
"I don't understand—where am I supposed to go?"
"Into the wasteland and ruins of our old city," her face morphed bizarrely into a frown, "Or," she perked up, "You can stay here, servicing the Company that so benevolently sheltered you during your time of need."
"What would I be doing?"
Dr. Grey abruptly stood up, went to crack the door, and gestured for the shells to enter again. He looked at the men, then at her. He gazed at her like the thing she was. She gently nodded. His heart dropped to his stomach, and he felt like he was going to be sick. They waited for a long time, but eventually she and Jim both exchanged looks of finality. The shells marched over to him, and each took hold of one of his arms, dragging him into the hallway. Down the corridor they went, taking monotonous turn after turn—those of which would be damp with Jim's tears—until they reached a large steel door.
The vault was unwound, and the shells threw him out onto the anemic terrain. As he himself unwinded like a ball of yarn on the bed of ruin, he looked back, and stared down the hall at the machine of a woman. As the vault was closed, Dr. Grey turned away.
Timidly, he gazed across the barren expanse of his new prison, littered with lost souls and stained with sorrow. The cold dreariness of this everlasting night-terror leaked across the blue-gray cloudscape. Billows of thundercloud suppurated and swelled throughout the murky pastel veil of sky. What used to be skyscrapers and sidewalks were now towering, rusty needles erupting from cracked concrete masses like neon flames. The beginning of his end was a black and white inferno.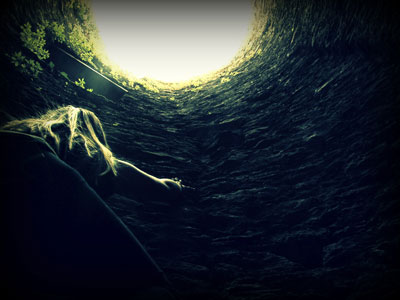 © Caroline C., Coronado, CA