Say Hi
April 8, 2018
Say Hi
Walking down the street that is outside my bedroom window is a girl about 5'7". She has curly hair, which is brown, and by the looks of it her eyes are green. She wears a black sweatshirt with blue jeans and country boots. She looks as if she is thinking aobut something very hard in which the situation cannot be solved. She is beautiful. Gorgeous. The girl glances at me for a moment and I am instantly shook. The way she walks, the way she looks when she is thinking, and not to mention the fact that she doesn't even realize i exist...yet.
Walking down the sidewalk I think about what had just happened at home. My backpack feels heavy with all my clothes and few belonging I managed to grab before he got home and kicked me out. I think about the sobbing eyes of my little sister and my step-mother smiling in the back corner as if she had already won. Without thinking about it I look over at a house in which I am passing and notice a boy sitting in the window. I can tell he is a malato man,which in my case might be the best. I think he has brown eyes and short brown curly hair. Too bad he and I will never meet. He doesn't know what I went through and he is just staring at me as if I have something ugly on my face. I just continue walking past, wishing I could find somewhere other than the school bleachers to sleep tonight.
One week later
I walk down the hallway of the high school not noticing where I am going. When I look up she is walking towards me her face buried in a book, but I know it's her. She looks just as gorgeous as the first day I saw her through my window. A couple of my buddies give me high fives or ask how i am as I just continue to walk towards her. She hasn't seen me yet but just as I am about to pass her she looks up and we both stop in our tracks. I don't know what to do. I can't breathe all of the sudden. Before I even think about it I say…
"The river flowed under the bridge that she stood upon. Her eyes sparkled from the light off the water. She realized that he could never truly be her's. She wasn't good enough to have that type of love. She was a screw up, theft, and most importantly an assassin. This was her job. She had to finish what she started, but that meant that she had to kill him. No matter how she felt she would die in the end. So she raised the gun to her head." I read the last words to my book and sighed in anger. Being back at school was a good way to get my head off of all of the things that had happened last week, sadly I am still living at the football field. As I look up from my book I see a boy passing by me that I have see before….then I piece the puzzle together, he's the boy from the window. I stop suddenly, my mouth is dry and my hands are sweating. It takes every ounce of energy for me to say….
Hi...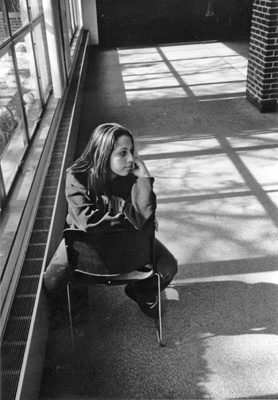 © Leighann E., Westport, MA