Decoy
March 3, 2013
Thinking of our last day, your head and hands holding a secret.
Now you're gone, and no light from the Emerald Coast could
withdraw this heart from its tiny circle.
Did it all work out in the end? Was it all worth it?
Lies supersede truth in all the world's order baby, for your tiny circle.

The lights settle. It's dim, but not dim enough for me not to notice her.
Sound waves from the amp still shift through the air, bobbing inbetween sea markers made of flesh and bone. The stage. A bottle. Can I get a sip of this?
It burns, but a good burn. The burn that cleans a dirty cut from a disastrous bike ride. The burn of a blazing fire that kills evidence in a hearth. The burn that I need to really notice her.
Criss-crossed bracelets haphazardly clutch her thin wrist. All that blonde, spinning in spirals and swirls at the ends. Just the shade of sun kissed sand on that one beach in California that I visited with the guys that one time. Not the perfect shade of brown like…
A sip taken. More fire in my throat, leading a torch toting mob to my belly.
Labium superius oris, Labium inferius oris, she's moving them in a series of repetitive motions. What? Can you repeat that? No, no, no that would offend her and I've made too many mistakes tonight and I don't want to be alone.
I'll just call her Sunshine, since every part of her seems to radiate nervous excited energy sprinkled with cool crystals of calm. Perfect. "Nice shirt Sunshine." It's semi-translucent and a tad bit provocative, but what's life without living on the edge? At least I know she won't leave me for what's safe.
Ah, my good friend the Burn. He's back and better than ever. I'm feeling him. My vision's getting blurry, but not too blurry for her.
"Hey Mathias, ready to get out of here?" That's my mate Cash. He's a good bloke, always been about the music. Unlike others in my past he was always too busy metering notes and matching them with lyrics to get involved and settle down. "Isolationism--- you should try it," he'd say.
Are Warren and Blue already in the bus? Probably. They tend to retire early. I ask Sunshine if she'd like to take a chance and go on the trip of a lifetime. A smile for an answer, too obvious; but what I secretly hoped for all along in the trenches of my tattered subconscious.
One more visit from Mr. Burns (get it, Mr. Burns?) before donning a light jacket. Steps outside the door, and even Sunshine couldn't heat up this frigid air. Unexpected. I never plan ahead or come prepared.
Sunshine's arms are around me already, maybe divination of what's to come? Either way, it doesn't matter. Nothing will change the fact that I'll be spending my night on a bus, shuttling down winding highways instead of pushing back an ivory veil.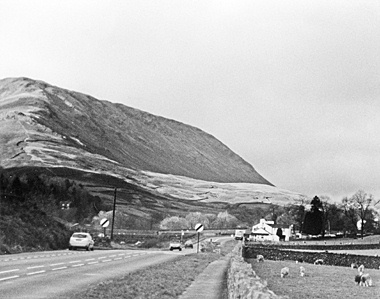 © Eleanor J., McLean, VA