Marry Me After My Restraining Order
December 26, 2012
Fairy tales. Happy endings. Love.

I want that. You want that. We want that. I'll give it to you.

I was looking at that painting we both loved yesterday. The one with the single paint blot.

You said, "I like it."

I thought, I love you.

I tried to make you look my way.

But you always looked away.

Why? Do you think I'm ugly? I thought we had something. I know we do.

Sometimes I think you're trying to avoid me because you feel a little too uncomfortable.

Why is that? Is there something wrong? Aren't we closer than life? I can't spell beautiful without U.

But you also can't spell it without I.

We need each other. I need you. Please look my way. I know you're trying to avoid me. You can't possibly be so absorbed in a pamphlet of Picasso.

You hate Picasso. How do I know? I stalk.

I'm kidding. Please laugh. I love it when you do. It's so deep and throaty. I like it. It reminds me of my dad.

You have a blond curl hanging above your blue eye. It looks so cute right there. Just chilling like a villain. I wish I could get that close to you without receiving a restraining order. You already threatened to give me one last week.

Don't worry. I won't risk it. I love you too much to let you get 100 yards away from me.

Why are you still looking at that pamphlet? Isn't it time for you to pick up your little brother across the street? I saw you walking him to the daycare center a couple of days ago. Your brother is too cute. Maybe you should bring him over to this info desk and I'll teach him something. Maybe I can teach you . . .

Wait.

What. Are. You. Doing?

Are you moving out of routine? Why? I don't want to. Not right now. If I had known before, I would have devised a fifty step plan to ensure the perfect conversation. I'm not ready for this. For you. For anything. I'm not ready, please.

I frantically rearrange the papers in front of me. I had to look busy. There was no way to think of a plan now that you were coming towards me. My heart was going to burst out of my chest. You would have to take me to the hospital and watch me die. Or do you not care? Please care. You're the only thing that gives me joy. You and Almond Joys. And that roller skating rink near my street. Let's go there together tomorrow. I can make a sixty step plan if you give me enough time.

How can you make such long strides like that? You must have been a runway model in your past life. You've definitely got the looks for it. But I, for one, don't have the looks. But I do have the heart. Please love me for my devotion to you.

Your hands look so strong, smacking on the counter between us. Although, your eyes look tired and frustrated. Is that a vein I see in your neck? Are you stressed, my beloved? I can help you ease up. I make a mean hot chocolate. I'm talking about the sweetest chocolate mix money can buy with the best homemade marshmallows. That's called relaxation.

"Please stop staring at me," you say. "It's been an hour and you're constantly boring your eyes into me." You sound exasperated.

I tell you I'm not doing anything wrong. Let's go back to our positions until tomorrow. That will give me enough time. I can't interact with you right now without some thinking and deep breathing. And maybe my Mr. Squiggles. Would you like to see him?

I draw out my bunny rabbit and show it to you, but you don't seem to appreciate it. Maybe you should go home and take a bath. You seem really tense. You're breathing too hard. Calm down so I can see those wonderful sea blue eyes return from those scary dark blue ones. How can you get your eyes to change color like that?

You say that I've been stalking you. But I haven't. I've just been watching you. Everywhere you go. But the thing is, only inside of the museum. I'm not crazy enough to try and find you outside of my shifts at the info desk. Some things are best when taken in small portions.

You threaten to actually send me a restraining order. Don't you think you're being a little bit dramatic, sweet pea? You're making a scene. I can feel all the other visitors and my manager staring at us. Try and keep your voice down. I love you lots, but we need to keep our relationship on the DL (down low, if you didn't know).

You say that I've been following you around the museum with a video camera. This is true, but that was last month. I'm glad you remember. I used the videos I took to make a video collage. It's all about you. All the time. In every clip.

It's almost as perfect as looking at your face in person.

You want me to quit making you feel like a trapped rat in a laboratory whenever you come to your favorite place. Since when was this art musuem your favorite place? I would have to add that to your profile in my notebook. Along with that lock of hair I cut out of your floppy tresses when you were sleeping on the bench in front of Leonardo da Vinci's painting.

That was the best day of my entire life.

I continue not to speak as you stare at me. I never want this moment to end. I feel like we're finally making a connection. Even if you look like you hate me. You'll get over it after we get married with ten kids in Jamaica.

I love Jamaica. But I love you more. I want you more. I need you more.

As you leave in that big emotional exit (slamming my stapler to the floor is definitely what makes me get excited about you), I realize that something seems out of place. Something is missing in our relationship. I feel a little bit uneased by our conversation. I become conscious of the fact that you just might have been a little bit more than upset. You might have been angry. Should I expect that restraining order that I hear so much about from your soft lips? But most importantly:

Can I still expect you to marry me?

I already paid for the caterers.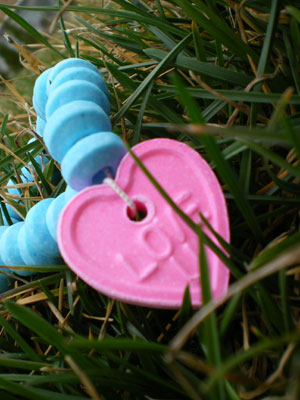 © Jennae P., Kennewick, WA