Cardiac Conversations
August 16, 2012
The students, the people who have been gathered into rooms to gain and to learn, are talking. Nonsense chatter is circulating through the air. Simple words are uttered from one mouth, as surrounding ears take all in. Old acquaintances discuss events of their summers, catching up on anything missed. More often than not, laughter resonates from the many handfuls of students in the room. Everyone seems to be in conversation, everyone but I.
Alone, in the middle of a crowd, I stare out the nearby window, thinking about the single voice I want to hear. But that voice is not here. That voice is going from me. The body that the voice belongs to is leaving. Inch by inch, yard by yard, and mile and mile. Every second increases our distance, increases the pull on my heart, increases the worries I have.
Goodbye to you was simple but the hardest thing I've done. Could you see my heart breaking in my eyes? Could you hear it shatter as I drove away? Did you know of the waterfalls of tears when I finally let them go? Did you know I couldn't breathe just thinking of you leaving? Are you feeling this way at all? Am I a figment of could have been- a nothing in your future?
One thought fights another, yelling and saying words it does not mean. Quote by quote, statement by statement, my thoughts collide at each other. The conversation within is unbearable.
The conversations around me are building. Classmates are speaking endlessly of melancholy ideals, care-free gossip and worthless jokes. Raising your volume is soon the only way to compete with the other talkers. Volume is rising quickly, quickly, on the outside and inside as well as that one last word repeats itself in my mind. "Goodbye." "Goodbye." "Goodbye." Louder. Louder. Louder. It screams in my mind. It pierces my heart. This one word is all I need to break down.
The teacher begs, "Quiet!"
The students roar lowers, as does the commotion in my mind. But as their conversations carry on, so do my thoughts.
The students, the people who have been gathered into rooms to gain and to learn, are talking. Everyone seems to in a conversation, everyone but I.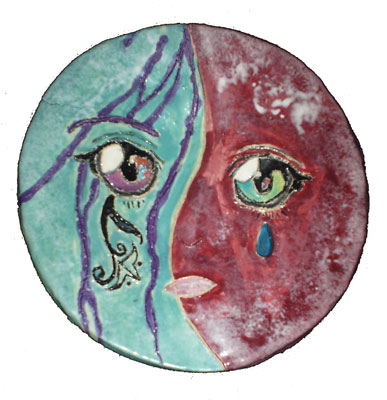 © Angel V., Tecumseh, MI