My Uterus Hates Me
May 11, 2012
Online, have you ever seen a picture of a heart (the squishy, bloody, beating kind) with a leash and collar attached to it; there's a brain holding onto the leash. The heart is trying to fling itself at someone, but the brain pulls it back and says "No. The last time, you got hurt."

My brain is doing the same thing. The only difference is, it's not my heart that needs to be controlled. It's my uterus. 

You see, it all started out when high school started. I had just moved to a new town, and all my senses were being flooded with new things. Being the hopeful romantic that I am, I dated the first guy that showed interest. Bad plan. Turned out he was a closeted homosexual. 

By then, I had gotten the chance to take inventory of the other boys in school. Who was nice, who was a douche, and who was hotter than the hinges of Hades. I really wanted to date this guy named Cameron. Not only was he a very fine male specimen, but he was sweet, and he always smelled fabulous. 

Basic description of Cameron: tall, muscly, tan, black hair that fell down to his eyebrows, and an adorable "bad boy". He's Mexican.

I tried everything I could to get him to go out with me. I bought cosmetic after cosmetic, and I even learned how to apply them correctly. I passed notes with him in Drama. I popped up unexpectedly and killed him with kindness. I even did his homework. He lost interest.

So, I moved on and ignored him. Or, at least that's what everyone else thought I did. I was secretly thinking about him constantly. I would mentally sigh every time he would laugh or shake his gorgeous hair out of his eyes.

Two weeks later, I get a message on my phone. It said, "Why don't you ever talk to me anymore?" The text was from Cameron.

"You don't ever talk to me in the halls, or anything." I replied.

"I don't really talk to anyone in the hallways," He responded.

Being the sarcastic pain the butt I am, I answered to that with "Ouch. I've just been demoted to 'anyone.'"

His next message floored me. "Oh, babe, you're not just 'anyone.' How 'bout you be my girlfriend?"

I was so happy! We dated for two months, and then everything just unraveled. So, at 3:47 AM, on a Saturday morning in November, we went our separate ways. 

So, what's the problem with that? You see, my uterus hates me. I don't love Cameron anymore, but my body wants him. Without thinking, I'll scoot closer to him on a bench, or I'll help him with something. It's ridiculous! 

I'm certainly not still in love with him six months after our parting-ways. The idea is just stupid. Then, I remembered that picture of the heart and the brain. It all fits! Its not my heart that wants Cameron! It's my stupid reproductive organs! My uterus is just begging to have Mexican babies.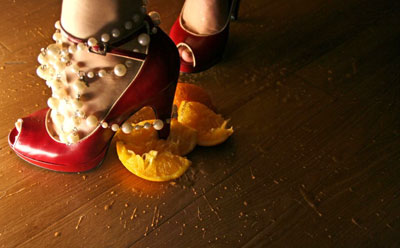 © Amber L., Carpinteria, CA