A sewn up heart
April 6, 2012
It was a perfect night and I had been building up the courage to ask robert if he liked me. Now mind you this was only the summer going into 6th grade. Our relationships where minimal and if there was one, it meant nothing. Let me explain what happened that made me have this urge to know weather or not he liked me.

It was obvious. I liked Robert McLarski and all of my closest buddies knew it. Although the statement I just made was completely true, there was one problem. One of my closest friends, pete, was 'bros' with Robert. He was always threatening me and saying that he would tell Robert. like I said i was in fifth grade and this meant a whole lot. One day we where walking in from lunch- recess and Pete was standing in front of me and a few of my girl friends. He looked back and was teasing me. The conversation went something like this,

Pete: you like Robert, you like Robert.

Like any fifth grader I obviously denied it.

Me: no I don't!

Pete: yea you do. Don't lie!

This had gone on for too long. This teasing needed to stop. I took a quick glance at the people standing around me, there was no one that didn't know so I agreed.

Me: fine you know what I do. I do. I do. Okay you happy?!?

It was as if a bomb filled with silence exploded right in the center of our conversation. Pete and my friends kept walking. I stopped dead in my tracks along with two other people who had been walking in front of me. The where stunned. I was trying to process this moment and what had just happened. I looked to see who had stopped so suddenly with me. Of course, to my great luck it was him and his friend. Robert was there, standing and staring back at me. With his head cocked a little weirdly to the side, I think from the information he had just received. I scampered off to meet back up with my friends so I could tell them what just happened. Of course the news traveled fast and within days everyone knew. Something that I did not expect to happen was I started to receive feedback. People started coming up to me and saying he likes you too, or it is meant to be. I was so very unsure of everything.

So back to what I was saying in the beginning, every summer we flew down to the McLarski's house in South Carolina with Pete's family as well. If it was not clear already, Pete, Robert, and I are close due to family. So our third night or so staying there, there was a meteor shower. I remember seeing meteorites so close (or so it seemed). That was also the night I saw my first shooting star (although there was more than one).
I remember all I wished was that Robert would like me. That night I had built the citrate to ask him my self. When it came time to get ready for bed. I was the first done. I was sitting on my sleeping bag in the loft where all of the kids where sleeping. I was hoping that robert would be the second one ready (or I would have to move my questioning time). I did get lucky with that though. He was in fact first one up. He sat down on his sleeping bag and i started talking,

Me: Robert, every one has told me many different things. Pete said you liked me and so have many other people so has jack and even Penelope....

I was rambling so he cut me off.

Robert: what are trying to ask me?

At this point he had stood up.

Me: I guess I am trying to ask you, if you liked me because I can't trust anyone else.

He turned pale and looked as though he was going to faint. He sat down.
A couple seconds later he responded,

Robert: I am sorry to break your heart, but I don't like you.

I was torn. I held myself together and responded with a simple ok. I lay down in my sleeping bag and listened to people beginning to come up. I pulled the bag up over my head and shed one tear. I quickly wiped it away and was quiet the rest of the night.

The day it was time to leave to go back home, I couldn't find my sleeping-bag bag, if that makes sense. So Roberts mom sent him to go help me find it in the loft. I was on my hands and knees crawling around the loft. He then quietly said to me,

Robert: do you remember the other night,

I stopped to listen, showing him he had my attention

Robert: Well, it was kind of unexpected of you to ask and so I was caught off guard. I actually do like you it was just I couldn't tell you there and then.

I looked at him and smiled. Then said thank you.

The whole flight home I was thinking of our conversation. I was happy. So happy I think that ride was the longest I have ever smiled. I think the wishes on the shooting star have payed off. But my most vivid thought was one that made me happy,

- so this is what princesses in fairy tales feel like.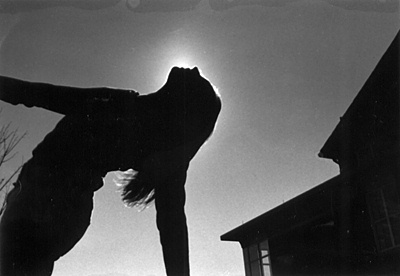 © Alexandra B., Marblehead, MA