Off Topic
October 10, 2011
My room holds everything I've ever loved; shelves of novellas, pressed so close that every ending falls into a new beginning; a pile of postcards on the dresser, tattooed with proof that there's life beyond this town. A heap of sheet music in the corner, because when words evaporate on my tongue, the rise and fall of minims and quavers seem to take over. Polaroid's pinned to a cork board; faces I don't recognise anymore. I can recall the exact moment when they were taken, when for five seconds our worlds existed solely within the walls of the frame. I don't have the nerve to take them down. These people shaped me like a potter's hand, and without them, I have some childish suspicion I would melt back down into a puddle of grey.

Every tiny, inconsequential detail is a trigger.

The dent in the wall above my bed; the first and last time I tried my hand at DIY.
The Californian reg plate tacked to my door; a promise that one day I will look out the window and see city lights reflected in the ocean, instead of back streets and pawnbrokers. The circles of coffee mugs staining my desk; because it was winter and we felt the need for warmth and you knew just how to look at me. The lace shirt I always hang on my wardrobe door, so I can wake up and see it, and see you. Because you didn't just separate its fabric from my flesh, you put it back where it belonged, you threaded each button back into place, you put me back together again, and that's what made me fall.

I have a tin of junk on my highest shelf. But the thing about junk is, once you give it meaning it becomes invaluable. I saved the two starbucks straws you shaped into a heart, the stubs of every movie we saw together, your guitar pick emblazoned with a blue moon; every time I see it I can hear you say 'I love you to the moon and back'.

I try to stay on topic but you're a magnet, and I'm a tiny, helpless pin.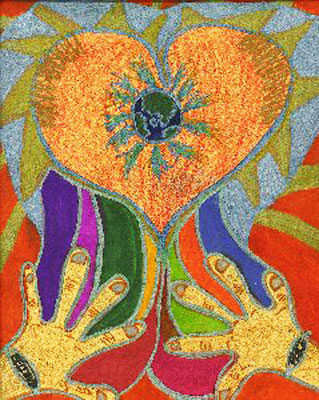 © Amanda P., Clermont, FL