What Could Have Been..isn't.
June 22, 2011
Everything and everyone dissipates, except for them. The earth, the sun, the universe centers around this long- awaited first encounter. The balance of the world is in the hands of this bittersweet exchange. Their words are loud, but nothing is said. She forces her gaze to wander towards his, and years of suppressed hurt and anger rise to the surface, floating just below the water. She tries to push them down, but instead they are a volcano. Regret and anger flood the air between them. He steps in to intercede. The safety of his body is just outside her reach, she can hardly stand it. She leans in, and falls to the ground. He offers his hand, it's only a tease. She stands to her feet all on her own because she finally realizes she can. She could all along.

His eyes meet hers- years full of missed opportunity and broken promises flash between them. A single tear runs down her cheek. He pushes away the mistakes and instead gently kisses her hand. She longs to cherish the tender words, the familiar safety of his touch, but forces herself to pull away. He picked someone else. The one person who would forever sever the effortless connection they had, and he picked her. So she walks away, turning only to look over her shoulder at what he took away from her.

Now, she looks at her future. She had realized her strength, but leaning on him was always something she counted on. She has to learn how to be without the one who's safe embrace can never be rivaled. The tears fall freely now, the pain in her chest heavy and breaking. She can't forget. That race was supposed to be the story of their lives, but now it's merely a story in their lost friendship. She puts one foot in front of the other, wishing he would come after her, but knowing full well he can't.
The earth, the sun, the universe resume their orbit, and life goes on. But the balance will never be the same.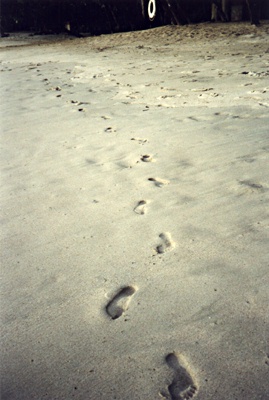 © April W., Rogersville, MO