Steal From Me
April 13, 2011
I look at the pictures on the walls, reaching up to touch them, my fingers just barely brushing the pure gold frames. This is what I see as I tour this mansion that I once knew so well. This is what I see, captured memories. Moments in time to be cherished forever.
The first picture is of a woman...dancing gracefully, her bare foot in the air, pointed at the tip, her arms flailing like a beautiful mad person. An Angel, falling from the clouds, his face turned towards the camera, his gorgeous white wings flying wildly behind him. His body turns in on itself as he falls, breathless, not remembering how to use his wings all of a sudden. I wonder: if pictures captured multiple moments, would he fall to the ground and become one of us, or would he fly? Would he simply...fly? I wish I was seeing this right now, at this moment, as I did so many years ago. But I do not. This is a memory. A moment in time captured so that when I come back now, blind, I can remember it and imagine that I truly see it...
Next, is a picture of a brigand hiding behind the wall, watching a beautiful gypsy dancing for an audience. Her head is slightly turned in his direction, though she does not see him. But he watches her, enticed. A brigand whose heart has been stolen by the lovely sea-green eyes of a gypsy. The gypsy preforming a feat like no other—being the thief of a thief.
And as I fall through these memories right now, I know that I will hit the ground. And as I dance with my toe in the air, I know it is not pointed. And as I stand behind that wall, I know nobody is standing on the other side. I know that today, nobody stands on the other side...waiting...
To steal my heart.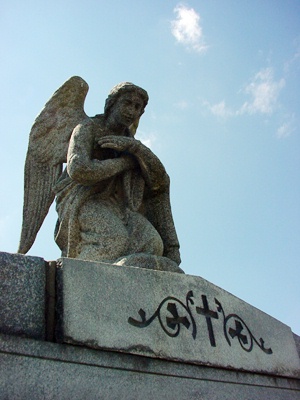 © Greg K., New Lenox, IL