Not The Way I Had Planned
September 4, 2010
I hated football, she was a cheerleader. Her boyfriend was the guy every girl wanted, including me. He was hot. I wasn't. His girlfriend seemed perfect. As did his football career.

We had several classes together. All advanced classes. So he was smarter than most people gave him credit for. He had brains and looks. Was there anything unperfect about this guy?

I knew that if I held any hope of becoming his girlfriend I'd have to talk to him. The prospect scared me. Even after I was placed in the same group as him. I was terrified to talk to him.

He started the forced conversation:
"Hey, it's Melissa right?" That one phrase made me want to hug him. He knew my name!

"Uh, yeah." Man I sounded so stupid. "And you're Nate. Right?"

"Yep, that's me." He straightened in his chair before going on. "The star quarter back and football captain. And soon to be free of a girlfriend." He nudged me with his elbow and I almost fainted.

"Really? You two made the perfect couple." I said as I ducked my head back down to the paper in front of me.

"I never noticed what pretty eyes you have." He tried to get me to talk again but I couldn't speak. I was too excited about them breaking up soon.

The next day I saw her crying. Her makeup ran down her cheeks in rivers. I felt like leaping for joy. Then he came up to me. He placed his arm around my shoulders and I melted into his grasp. He asked me to wear his jersey, to signify I was his girlfriend. I accepted. I saw him at the game that night, he had a special place reserved for me.

During half-time he took me away from the crowd. I leaned against a wall and he tried to kiss me. In that moment I realized that he went after girls as a sport. He tossed them around like rag dolls. He played with them until they wanted something more from the relationship, then he broke their heart and went for another so far untouched girl.

I slapped him, ripped his jersey off, and ran. I ran to my friend, Todd. The guy who wouldn't let anyone touch me. He literally carried me home as I cried.

I had no boyfriend still, but I knew the truth. I knew I would tell the truth to all. I knew there were other girls who knew as well, they would help me. And Todd, the big brother everyone needed, wouldn't let them touch me.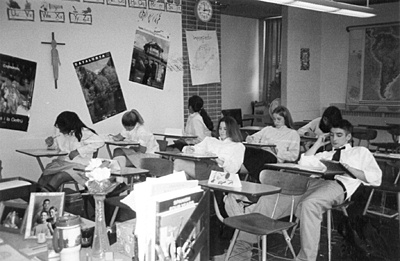 © Fox V., Whitesboro, NY