A goddess
May 28, 2010
The Ferris wheel just broke down. And I'm stuck at the top. All because of her.
She was...eccentric. The blue polish that covered her nails matched her eyes perfectly. She had a long dark braid that went down the right side of her neck and ended mid-stomach. She loved to dance in my car and play piano. Even if there wasn't a piano in sight her fingers just never quit moving. She was the type of girl I never thought I would be with. But yet here I am.
Her name was just as eccentric as she was, Lily Ciravino. I met her in biology. I noticed her the first day, she was loud and sarcastic, in a happy way. She sat right next to me, only god knows why. She looked me straight in the eye and said
"Hi, I'm Lily. You're Jacob right? We should be lab partners!"
If said by anyone else it would have seemed cliché but not her. With her it sounded bold.
Day by day we got closer. Then came the day I won two tickets to the Fair that recently had arrived. When I got to biology I told Lily about my winnings and she begged me to let her come along. Honestly, she didn't have to beg. I would've asked her to go anyway. I told her I'd pick her up at seven and left it at that.
That night I was a nervous wreck. It took me hours to figure out what to wear. I decided on a black jacket and a white tshirt. Simple but hey, it was a fair I wasn't about to get fancy.
When I finally got to her house and mustered up the courage to knock on the door I swear I was greeted by a goddess. She had her normal braid wrapping around the side of her neck and descending down her side. What she had on was what amazed me. She had on a white bunched up tank top and cut off denim shorts. So simple but on her it looked amazing. And the necklace she had taken from me as a joke a few weeks ago hung around her neck. Then she smiled. I just wanted to hold her that moment but I kept my cool.
"You ready to go?" I asked
"Of course, I can't wait" And with that she giggled.
Once in the car she talked about school, her life, and her future. After those conversations were over she grabbed the controls of the radio and found this really obnoxiously loud song and just started to dance. Right there in my car. Without a care in the world she just danced. It amused me, I couldn't stop watching.
When we had finally gotten there she dragged me to the game booths first. She looked delicate but she had one hell of an arm. She won herself a hat that she wore the whole night. It certainly suited her. The only other game we tried I knew she could win but she asked me to win her something anyway. All you had to do was shoot a few balloons and you win a stuffed animal of some kind. It was pretty easy. I won a stuffed purple bear. Which I then to Lily who grinned ear to ear and hugged me. I felt like a freakin hero. It was amazing.
She soon convinced me she had to ride the Ferris wheel. Said she had never ridden one because she was afraid of heights, but with me around she thought she could do it. Once we boarded the Ferris wheel I could already see her shaking. I grabbed her hand and told her she'd be fine. She must have believed me cause she stopped shaking and just smiled. By the time we got mid-way up the fireworks had started. They were pretty dazzling too look at. Lily was transfixed on them. They were still going once we got all the way to the top. Then the ride decided to break down, right there. The whole ride jolted to a stop and Lily clutched my arm. I could tell she was really scared. I took my arm and put it around her. She looked up at me. That's when she did something I'd never forget. She kissed me. Right there at the top of Ferris wheel. I felt like I could fly. Then she just snuggled up to me and waited for the ride to start moving.
The Ferris wheel just broke down. And I'm stuck at the top. We wouldn't be here if it wasn't for her. And I couldn't be happier.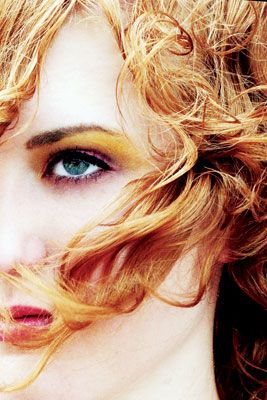 © Rebecca B., Marietta, GA