The memories of a widow
May 21, 2010
"You're so beautiful" he whispered into my ear while he ran his fingers up and down my arm. It felt as though someone was playing piano inside my chest. I smiled and leaned back further basking in the warmth of his body heat. "You tell me that every five minutes." I sighed happily. "But I still love it".
I looked up at the TV screen as the endless credits of the movie we were just watching looped. I'm so happy; I thought truly and felt deeply in my heart. His chapped, beautiful lips brushed the top of my head and he sang softly along with the song blaring from the speakers. "What time do you have to leave?" I said with a cough looking over at the black Clock hanging on my living room wall. It was 9pm. That means he only had two hours before curfew. It hurt to even imagine him leaving. I longed for every moment together and missed him the second he was gone.

"I should leave by Nine thirty" He paused and looked into my eyes. "Don't worry we have time left" I closed my eyes and smiled faintly. I felt his lips on mine and my whole body came alive with shock and happiness. They moved together like a dance, only slowing down to appreciate it. So warm. I reached my pale bony hand up in the dim light behind his head and ruffled his soft locks of Conditioned honey brown hair. He muttered something but I couldn't hear it. I nodded and let out a sigh of joy while our lips were still together, just barley parted.
I felt the warmth of his hand on my bare skin beneath the back of my tank top and froze momentarily, one hand on each side of his face and pulled my lips from his, our eyes looking deep into each other's minds. "My mom is upstairs" He sighed and hesitantly pulled it out from under and rubbed my back. "Ok". So we both just sat there. Completely in tune with each other's thoughts. That's when I knew he was the person I wanted to spend the rest of my life with.
Its 15 years from that moment. I'm a 30 year old mother of three. I still wear his ring on my finger even if my ring to him is buried in a cemetery downtown. I'm a widow. I miss him every moment I breathe and even in my sleep. I am still in love with him after all these years, after college, after the war, after we lost the house. After I said goodbye. That's the problem with the wedding vows, till death do us part. I'm never going to be parted from him. Because there is a part in my soul that is in all means 100% him and I know as he looked down from heaven not as his beautiful body that kissed my lips and held my hand but he looks down as his soul. That has a part just like mine that is 100% me. Death is inevitable. But love is forever.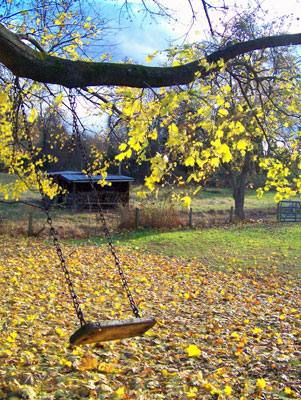 © Margaret G., Hillsborough, NJ