Keeping up with Hope
May 20, 2010
Many years after Hope and I went our own ways, my mind still goes back to those few months of my junior year of high school and the summer that followed. This is my story, it's not always a happy one, but it's true. My name is Ellie, and I was 17. I lived in the small town of Sykes, Texas. Back then, only 500 people lived in my town and all but one of the oil rigs worked. Off the main road, there was an overgrown hidden valley that was known as "The Valley of Secrets." In the valley there was the one oil rig that no longer worked. In the town square, there was one church where my dad was the minister, and my mom ran her daycare. The only other shops were a food market, hardware store, and a clothing store. With approximately one hundred and fifty kids in the Sykes Public Schools, the feeling that everyone knows everyone was horrible. Most of the houses were all in the town square or on side streets off the main road. The church was small, but everyone in town packed in for my dad's Sunday services. Just outside the town square is a small, rundown, warm sunshine yellow house with washed out grey shutters that are falling off the hinges, a deck with gaping holes, and a few rusty nails sticking up in random places. That was Hope's home. Her parents were alcoholics and she was an only child like I was. We were both outcasts in our own unique ways. I was shy and kept to myself and was an atheist – even if I was the only one who knew it. I had my own choices and views on life, and my dad never questioned that. We had a very close relationship then though all we talked about was school.

Hope was unlike anyone else in town; she liked girls and she herself was a girl. In Sykes, that was unheard of and not acceptable. She did nothing to keep it to herself. So, no one really understood or liked her. My parents were less than enthusiastic to have an openly gay teenager in the community.

In chemistry, Hope and I were lab partners and became very close friends. As our time together before Hope went off to college grew shorter, we spent more time together. On March 12th, Hope and I went on our first date. It was a night I will never forget. I had always thought I was straight before I had met Hope. I could feel my heart beating through my chest from my black short-sleeved tee and down to my Converse-covered toes. My smile was so bright and wide, even a blind man could have felt it. Every Friday night that there is good weather, there is a movie on the grass in the square, so we saw part of the movie "Toy Story" then headed off.


Hope's warm, moist lips, pressed against mine was an indescribable experience and gave me warm, tingling butterflies down to my feet, and up to my head to make it spin a little. Her chilly hands guided my neck to pull me tighter. As I wrapped my shaking hands around her, I could feel her smiling. The rain began to fall lightly and make our hair drip like tears. As the night went on, the rain picked up as we stood there next to the old oak tree and the dark sparkling pond hiding by the old corn fields. This was our spot. As that one night turned into weeks and those weeks into months, I knew the end of summer was growing ever closer. It would break my heart to see her leave but it was that time, we all must go. I tried to block it out. We spent almost every night together since my parents were happy I had a friend and hers were always too drunk to care. It was early June when I dragged Hope to church with me. To me, this was a big step in our relationship and she knew it. To everyone else, a Morgan at church had been unheard of. Despite that, she loved it, being part of something. It was that Sunday I knew I loved her. School was out and we had all the free time we could have wanted. It was always in the back of our minds that people could find out. News spread that someone saw Hope with someone, but with the darkness and shadows no one knew who she was. Hope was pressuring me to come clean and tell people. I could not do that to my dad's reputation and I could see the pain it caused Hope in her eyes. Every day for a week I saw it in her eyes and she seemed upset that I could not tell people, like I was embarrassed, I was not but she did not know. She never told me how she felt in words. In all fairness, I never did come clean about being the girl with Hope. Nights were spent kissing under the stars and holding hands in the moonlight wishing this would never end. We sat together for hours 'til we had dry mouths and would fall asleep under the tree, wrapped warm by the night. Nothing else made me so happy. As the days passed, we never wanted it to end.

All I can recall is the world's warmest, tightest, full-hearted cold hug. Good-byes hurt and Hope's hurt more than anything else. I held back my tears until she drove off early that grey morning as her car sputtered away until I could neither see nor hear it. My tears started with the late summer storm that rolled in. Lightning flashed almost as bright as Hope's smile.

Now that I have moved away from the small, enclosed town where I grew up and since found out who I am, I still go back every year with my daughter, Isabelle Hope. She is the love of my life and her grandparents love her to death. Every winter in Sykes, Texas we walk through that valley and the memories wash over me like all the storms that run though the valley. The Morgan's home remains the same as if it has been untouched by time.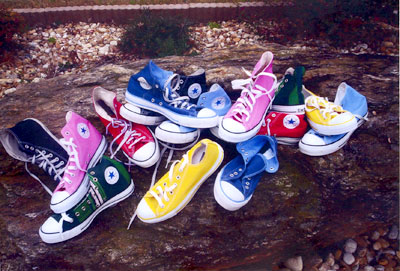 © Leandra L., Stockbridge, GA