Flame
October 19, 2009
I slide the cassette into the VCR player and flop down on my bed in front of it. While the twitching lines in various shades of gray sort themselves out and settle into a recognizable pattern, I am the farthest from settled I have ever been. I snuggle deeper into the old sweatshirt I wear, soft and navy blue and thick with the one scent I long to indulge in again but know I never can.

Black and blue screens of advertisement slide past, one after the other, until the droning gives way to an old-fashioned baseball video game. The camera swings to a young boy, sick and home in bed, and I watch as his grandfather comes in, pinching his cheeks and declaring that he is going to read a story.

Princess Bride was the first movie I ever watched with him – it was our movie. Some couples have a song or a special place, but for us, it was this film. We watched it on our anniversary every few months, and I remember the date again, flinching at the strike at my heart. Today would have been two years. Twenty-four months. Seven hundred thirty days. Was it all wasted? I turn my attention back to the scene unfolding before me.

The narration and action fly by, and soon I am watching Westley and Buttercup kiss for the first and thousandth time. They embrace tightly, and all of a sudden it is not them on the screen but him and me. Without pause, tears fall furiously from my tired eyes, and I am far too emotionally exhausted to make the attempt to stop them.

My eyesight is so blurred that I can hardly make out the different characters on the screen, and I soon give up on using the sweatshirt sleeves to wipe my eyes because they are as effective as windshield wipers during a hurricane. The movie dialogue continues to enter my consciousness, morphing itself into the heart wrenchingly poetic words that we used to speak to one another. "My princess," he called me, and "queen of my heart." He was my knight in shining armor, but the metal slowly tarnished without me noticing.

Finally losing all semblance of paying attention to the movie, I slip into a sea of memories. My subconscious seems determined to destroy me, for the very first one I see is the last one I have of us together. I try to throw a black curtain over it to block the pain, but I am too late. My mind swims with the images – me at his door, waiting and waiting just to see his smile; him stepping outside not to greet me but to say his final farewells; his face as he shook his head, deaf to my pleas and words of love; and the worst – his sharp words, each a knife through my bubble of what once was hope.

"I don't love you anymore."

I feel my muscles tense as I wait for what I know is to come: a raised hand, a clap so loud I thought the world could hear, a stinging handprint – but the reddened cheek wasn't mine. I don't remember storming away or slamming my car door. I don't remember anything about the drive home except the rain. Rather fitting, I found myself thinking. But there should have been lightning in the air if the sky wanted to mirror my heart.

The timeline of what we were progresses backwards across my vision, and I am forced to watch every sweet kiss, hear every loving word, feel the soft touch of his hand on my back again. I feel a physical pain in my chest, constricting the muscles so my breathing is labored. I clutch handfuls of my comforter, trying to direct the force to my hands and away from this overwhelmed heart of mine. It slowly becomes effective, and I throw myself horizontally onto the mattress in momentary relief.

Three deep breaths. One. Two. Three. I am calm. I am collected. I am strong. I whisper these words over and over to myself as I slowly sit up, pulling back the little pieces of myself that had begun to fray and scatter. My focus returns to the still-playing film just in time to hear Westley say, "This is true love – you think this happens every day?"

And I break.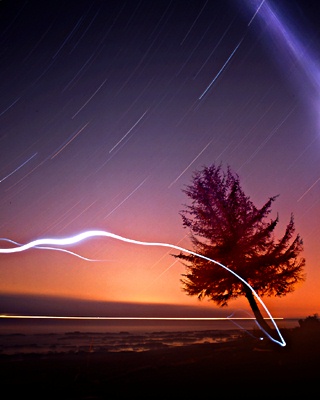 © Joey M., Spokane, WA