How did you know
September 8, 2009
As soon as I took a seat on that Ferris-wheel, somehow you jumped right on, knowing that I needed some company that night. At first I frowned and said I wanted to be alone and I don't ride with strangers. But then you laughed at me and took a seat anyway. We ended up talking and I was glad we rode together. How did you know that was just what I needed? When we got off the Ferris-wheel you asked if I wanted some cotton candy and I said, "Sure." We ended up eating two big ones. How did you know? How did you know that I love cotton candy?



When you got the nerve to ask me out on a date for the first time, instead of picking the traditional classic 'dinner and a movie', you took me on a walk around the lake and we both got to feed the ducks. That was the first time you held my hand. When your fingers touched mine, my heart beat a thousand times faster. I felt a rush running up and down my spine and chills all over my body. My hands were shaky, I think you noticed that because you smiled—that smile that you give when you know something, a secret. It took me about thirty seconds to realize I had that big stupid grin spread across my face. I remember your hands under mine and bread in the center of my palms, you whispered in my ear, "It's alright, they won't bite." I giggled because I thought it tickled when the baby duck ate out of my hand. You simply shook your head and smiled at me. That smile that I have to keep on telling myself to breathe every time I see it.



I remember when I didn't make the cast list for the play I auditioned for, you were there for me. You held me close as I cried, and you told me that everything was going to be okay, and I would get another chance soon. Then you took me out to get some ice cream. You made me get vanilla instead of chocolate because you thought I needed to try something new. After about twenty minutes of convincing, I finally gave in. I smiled and without a doubt, admitted that I loved it. You smiled, kissed my forehead, and said "I knew you would." How did you know that? How did you always know what to do to make me smile?



That one time when I had to cancel our date two hours in advance. Something important came up and I had to babysit. I was ready for you to be mad at me—But no: You were so understanding, and it was almost unreal to me. You showed up at my doorstep with some Mac 'n Cheese and two Disney classics, Peter Pan and The Aristocats. You wanted to help me babysit, and we watched the movies together with the kids. You didn't mind at all. Why were you so understanding?



That Saturday, we were going home from the art museum you had taken me to. You stopped in the middle of nowhere, took my hand, and told me to follow you. We stopped at this huge apple tree, and as I reached for the apple within my reach, you stopped my hand. You climbed as high as you could and got me the apple from way up there. You told me apples that apples were within reach weren't always good. You said apples were at the top were hard to get but it were worth it, and that they were always the best, and that I deserved the best. You were right about the apple tasting better. It was the best apple I've ever had. And in that apple, I realized I tasted love, and that I was in love with you. I was teary, and you laughed at me for being such a girl. Then you pulled me to your chest, lifted my chin, and kissed me.



Our first fight was over something silly. I don't even remember what it was about. But what I do remember is that it was mostly my fault. I remember hanging up on you, slamming the door in your face, and yelling over the phone. How were you always so calm and never yelled at me? I remember crying. And when I got home, I opened the door, and the words 'I'm Sorry' were written out with candles on the floor. You came up from behind me with two boxes of cotton candy. How did you always manage to win my heart?


It was track season again, and you had to get in shape. I remember begging you to come and wake me up to go on a morning run with you. You told me that I wouldn't be able to handle a three-mile run, but I begged and begged and did my best to convince you. Then the next morning you were at my house at 4:30 AM. I was so excited, but I complained that I had no make up on. You kissed my eyelids, messed my hair up a little, and told me I looked beautiful anyway. I was so excited, I told you that this three-mile run is no pressure and that was sure I could keep up with your all-star, long-distance running legs. But then to my disappointment, after one mile I was so out of breath. You laughed, and we found a bench. I sat and waited for you to finish the rest of your run. After that, I refused to go running with you, but sometimes you convinced me to walk with you the first mile, and that I was always willing to do.



But you're not here anymore. I heard somewhere that sometimes when something too painful happens, we force ourselves to forget and trick ourselves into believing it never happened. I guess whoever said that was right, because I don't even remember what happened. The only thing I can recall was riding in the ambulance holding your hand and… and everything else was a blur. I'm sorry that sometimes I could be a real pain and that I hurt you¬—I didn't mean to. You were the best thing that ever happened to me. Every day I spent with you was my new favorite day. You taught me love. You believed in me when no one else did. You had faith in me when I didn't even have faith in myself. I can still hear your soft whisper ringing in my ear, "Don't be afraid to dream, and live. You have a big heart that will take you further than the Himalayas." How did you know that? We have so many memories, and I promise I'll never forget them. You are a part of me now. I love you, always and forever. Rest in peace my angel.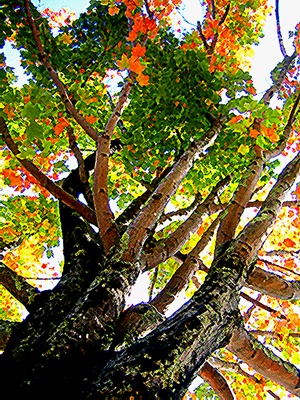 © Kathryn R., Shelby, NC