We All Fade
December 13, 2008
Why did you have to leave?

The freezing water crashed against my already frozen skin. Between the whipping wind and the oceans harsh waves, my whole body shook, goose bumps covered my arms and legs. My once pink plump lips now pursed, blue, and quivering. The night air crisp and sharp, it stung ever so slightly.

Please, come back.

I took a step farther into the water.

He would never come back. He was gone, gone forever, gone from everyone's memories, everyone's but mine. I could never forget him, not that face, not that laughter, not those little things he did to make me feel special.

I remember when we first met, I didn't give you half a chance, I was so stupid back then, I tried to be cool in front of those girl's who convinced me that we were friends. You kept persisting though, no matter how many times I insisted that I didn't like you.
You saved my life that day, that was the moment, I knew. I didn't care what people thought anymore, you were my knight in shining armor, no matter how nerdy those glasses were. You pulled me out of the street right in time to save me from being struck by that stupid driver. I won't ever forget.

I need you.

Another step.


But ever since you've been gone my world's died. I can't find happiness; it disappeared the moment you were no longer here with me. Everything's gone. You took everything. And for that I'm hateful. I hate that you left me, I hate that I'm alone, I hate that I can't forget you, I hate those nightmares you've forced upon me, James, I hate you.

But I love you dearly.

Another step.

A whole new chill took over me, my fingertips now grazed the top of the water it sent shivery messages throughout my body. The stars were so beautiful though, I almost forgot the pain, all of it. Just took in that lovely moon, I felt as if she shown right down on me, she's the only one who thinks I'm not crazy, she's the only one who cares anymore. Nothing matter's anymore anyways.

I'll see you soon.

Another step.

Sometimes I think I still see you, in the corner of my eye your vision appears suddenly then disappears. Are you watching over me? Are you haunting me? I'm sorry I wasn't there like you were for me. I'm sorry I was too afraid. I'm not brave like you are; you would have run back into the house to save me from the fire. All I cared about was myself, I got out, I watched the house burn down, I knew you were inside, I did. I told the firefighters you were in there. I could see your face screaming at me from the bedroom window, I looked away. I'm such a cowered.

Another step.

I'm sorry.

The water's waves crashed against my chest now, sprinkles touching my face, my breath came out short, and in the moon's glow I could see it. Small puffs, little clouds of white lingering, just like you, before fading into the distance. That's what we all are though, just little nothing's waiting for the end, and when it comes no one notices, no one cares, and we all just wait to fade, fade into lost memories, fade like we never even existed, fade to nothingness. A few warm tears burned down my cheeks, as I took my last step.

I can't live without you.

It's my turn to fade.

See you when I wake up.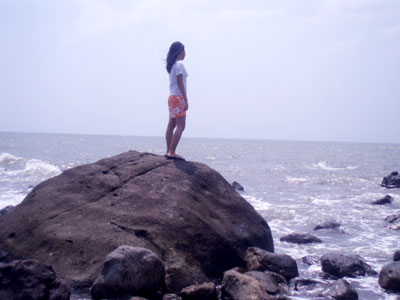 © Grace L., Bacolod City, Philippines