Instances
MAG
December 7, 2008
It took me 15 years and 364 days to turn 16, three tries to pass my driving test, and several months of nonsense to finally earn the right to drive on my own.

It takes a song and a half to get out of the school's hellish parking lot at the end of the day, until the second chorus of "Sweet Child O' Mine" to reach the first traffic light, and more or less half of any album in my collection to get home.

It takes an instant to lose everything.

Not one of those commercial instants either: Lose ten pounds instantly! Regrow a full head of hair in an instant! In an instant, that troublesome fungus will disappear! When those people use the word instant, it means at least a minute, or, if they don't mind lying to the public, days or more. I don't imply, and I don't lie. When I use the word instant, I mean a fraction of a second. I mean less than a heartbeat.

I mean my head through the windshield, my mouth still open from singing along to whatever song I was listening to the instant before.

It wasn't even my fault, not really. I suppose I could have chosen a safer car, but when deciding between a bunch of safety features I might never even need and CDs I would absolutely want in the next year or two, my judgment was not at its best. I blame the economy, and the constant civil war between heart and head. I blame The Killers for coming out with a new album every five minutes, and statistics that say I would probably never die in a crash anyway.

Come to think of it, the accident wasn't even the other driver's fault. I would probably run a red light if I were late for a dentist appointment too. Maybe not one at a busy intersection, but who's to say it wasn't a really important appointment? Perhaps he was getting a new filling. Yeah, I'd race across the road with no regard for traffic in my 2004 pickup for that, too, especially if there was nothing in my way except a wimpy '98 Civic. Because I would be the only person on the road. Every other car would be driven by a robot, a drone that doesn't matter in my world. The only thing that would matter to me is being on time for my appointment.

Like him, I too would be surprised when, after stepping out of my barely scratched vehicle, I saw the other car scrunched up like an accordion, like a piece of paper balled up and thrown against the side of the street. I would be shocked to see blood on the shards of glass strewn about the pavement because apparently I hadn't realized running that light meant plowing into the Civic, which would lead to crushing the 17-year-old inside it. The 17-year-old who just wanted to listen to The Smiths while driving home.

Maybe I'm being too bitter about all of it. After all, the other driver did stand by while someone else called 911, waited patiently while the paramedics extricated me from my mangled vehicle, and even went through the trouble of leaving a note of apology beside my bed in the hospital. I, of course, wouldn't know of his contributions to my well-being until after I woke up from the coma a week and a half later.

I sure hope his dentist was a good sport about rescheduling.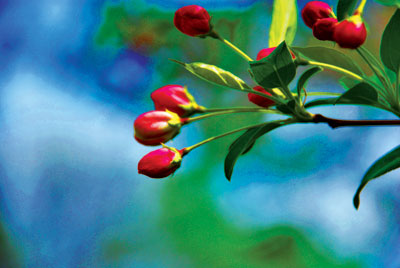 © Hannah B., Princeton, IL