Tell Me Something I Don't Know
January 27, 2010
I can tell you almost anything you want to know and most things you didn't. I can write your life story with amazing detail and I can sweet talk my way out of anything.
I can type like the wind, I can recite poetry. When I'm done reading a book, I can tell you everything about it. I'll remember those details for weeks afterwards.
I can identify birds by their voices and drive a truck. I can load hay, transplant flowers and tell you the yield of your crops.
I know my way around the internet, a circuit board and an iPod. I know more songs then can fit on a 2G.
I can play a guitar, say a speech and stand up for what I believe in. I can memorize lines speak them almost perfectly on opening night.
I can apologize when necessary, bow my head in shame and turn away from violence.
I can work hard. I can focus. I can do for others as they do unto me.
I can smile. I can frown. I can focus when necessary and I can let my mind wander when I choose to do so.
I can run and shout and dance and laugh. I can recognize a beat and I can make my own.
I can be perfect or I can be me. I can clean a hog stall without complaint, and I can be a real pain in the butt.
I can do what is expected or I can be something new. I can be a chameleon or I can stand out.
I can breathe and feel and see.
I can saddle a horse and rope a calf. I can fix a fence and I can keep up with the boys.
I can crack a joke to break the tension, or I can be silent and just listen.
I can be a friend. I can be an enemy.
I can hurt someone but I choose not to.
I can pick a side, or I can walk the middle line.
I can get straight-A's. I can flunk a class.
I can ask for help. I can keep quiet and suffer in silence.
I can listen to screamo, but why would I want to?

I can't make you love me back.
But I'm working on it.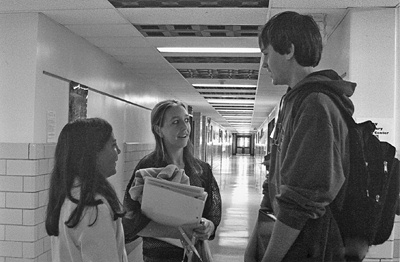 © Kathryn K., Pompton Plains, NJ