The Last Letter
July 6, 2015
    Why? Why am I here? Why should I have to suffer for the poor choices others made. For their greed and pride...
    I have a family too. I have--had--a life. Whatever happened to every man is equal America? What, did that just not apply to black people? I am fighting for their freedom.
    I am also fighting for my life, here on the battle field. Why? I'm sure every man around me, even the still warm bodies laying on the crimson ground, have found themselves asking that question after each battle.
     I took a deep breath as I began to answers that question for myself. I believe in what I'm fighting for. I believe in equality for all. Not just blacks, not just the poor, not just men. I believe that Lincon will see us out of these dark times. In fact, I know it.
    One last thing...I know I'll see my family again. But until then, untill the war's over and we can start to rebuild our lives, I'll settle for reaching out to them in letters.
    I promised myself right then that I would write to them at least once a week. And if anything went wrong...I would have to try to make the best of it. No--no actually,I just wouldn't tell my children or my wife at all; they already lost their uncle, they don't need or want another thing to worry about.
    I shook my head. Don't think like that, nothing will go wrong, you can do this Robert. You can, no you will, see your family again.
    I constantly thought about my two loving children and caring wife all night to avoid giving up. This would be the third time that I've talked my self out of abandoning my beliefs.
    However, I didn't get a fourth chance. The next battle--That's... when my life changed.
    Bill and I always fought back-to-back. Him and I became good friends: reminiscing about the good old days, mourning each others loses. Sometimes it was just sharing a good laugh or cry with each other. We would protect one another and do whatever we could to make sure the other man got home.
    Unfortunately, neither of us thought about the downsides of fighting back to back.
     One second I was defending freedom, the next all I could feel, taste, and hear was a sharp, burning pain. I saw red. I was suddenly aware I was on the ground, and my back felt warm. All I could think about was the pain. The pain...
    I was going into shock, I couldn't think straight, my hands became clammy. It took me a moment to realise that Bill must have been shot. The "minnie ball" (a type of bullet used extensively in the civil war) must have passed through him and lodged itself in my chest. It took me another instant to realize that Bill was probably dead. My head swam but I managed to turn around just enough to get a glimpse of his dead body.
    He was dead. I had failed him. But in the next instant I reassured myself that I couldn't fail my family. Not them too. A few men carefully, but hurriedly, carried me to the edge of the firing zone before rushing back into what would be certain death for so many of them.
    There a man ran up to me. Just one, that's all that could come with all the other wounded soldiers. Good, he was a doctor, he would save me.
    I can't remember what happened next. But later on, I don't know how long, I remember sitting in a bed. In a room with the dead and the hurt. The first thing I did was write to my family, I explained my situation, all though that's not what I originally planned. After many weeks with the nurses and doctors I was still very sick and on the verge of death. Don't worry, I said, I'll see them again.
    I found out the the bullet wasn't lodged in my chest, though very close in my right shoulder. One of the most painful parts was when they retrieved the minnie ball from my flesh, with nothing to kill the pain but a swing of whisky and a bullet to chew on to prevent me from screaming.
    Then I was told to write a letter to my wife Ruthy and my two kids Bell and Albert. Today...Today they're going to amputate my right arm. Not many survive the process. So I proceeded to write the most meaningful letter I could muster. But it wouldn't be the last letter.
    Finally; after many pages of feeling, emotions, and words were sealed in an envelope addressed to my home in Main, my closed my eyes and awaited what was to come, anxious to get back home when I was better.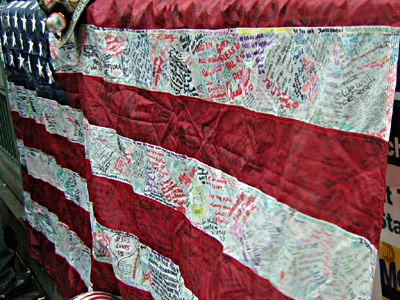 © Brittan S., Chino, CA