The Storyteller
May 26, 2013
Once upon a time, hundreds of years ago, there were three wise princesses. They traveled miles on foot, by boat, and even underground to find all of the stories of the world. They moved everywhere until they had found the last story and achieved enlightenment. The princesses wished to bring enlightenment to the world by telling everyone all of the stories at once. They went to the nearest city looking for people to tell their stories to. No one wanted to hear all of the stories of the world. No one had any time. So the princesses moved to the next village; same result. The princesses still did not give up hope.
They went through villages, and villages until they had one last hamlet unvisited. They traveled through the town, finding no one. They were about to leave before a small girl tugged at their dresses. She asked them to tell her a story. So few had passed through the area, so she never heard many stories of people outside of her town. The three princesses told her their favorite story. It was of a famous soldier who laid down his sword in the middle of a battle, bringing everyone to their knees and beginning world peace.
The little girl loved the story so much that she asked to hear another one. The princesses smiled and told her the story of a sun god who fell in love with a human and cried because he knew she could not look at him, making rain. The girl kept asking for more tales of wonder. The three princesses took turns telling story after story until there were no more to tell.
The princesses moved to a far away place and never spoke again. The little girl became a teacher to the world. She spread the knowledge by telling a story to each person who came to her. None of the adults she knew as a child came. Only curious children came to her, asking for her to tell a story that they had never heard before. After the little girl died, the people she told stories to told their children and their children's children. They added their own stories of life and love while still keeping the story they had heard as children. Now, each person in the world holds a story, waiting to be told.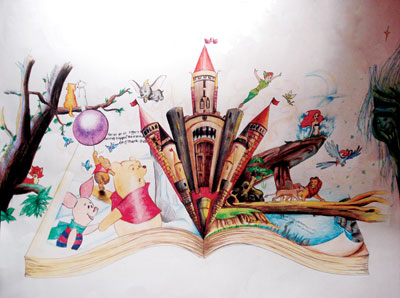 © Shirley L., Chino Hills, CA