Without Isabella Marshall
September 14, 2009
Curfew, Kentucky 1924


You can learn two things from the name of our town. One, we don't stay up very late into the night, and two, there aren't very many of us (hints the "few" part). Momma says that's nothing to be ashamed of, but then again, Momma ain't ashamed of much…

The only reason there's a town here at all is 'cuz of the railroad that runs right down Main Street; which happens to be the street that everything important is on in our town. To the left of it, there's 1st Street, 2nd Street, and 3rd Street. And on the right, there's 4th, 5th, and 6th. If you miss something, you don't have to go out of your way much to go back and find it, that is, if you see anything worth finding. If there wasn't an Isabella Marshall, my story would be over, but then again, maybe that's why God made her.

~*~


"'Liza Mitchell, get your britches down the steps this instant or we are leavin' without you!" Three synchronized grumbles echoed up the stairs.

I brushed my hair up into a sloppy ponytail and pulled on my good black boots. "Just a second Momma, I gotta find my locket!" I threw a pillow off my bed, and it hit the wall.

"It's been a second, Darlin'. We're leavin'! Come on when you're ready!"
I sighed. Walking to church with my family ceased a long time ago.

Smoothing my dress and forgetting my locket, I clumped down the stairs. The church bell had been ringin' for some time now, so I knew I'd be late. I was always late. On my way out the door, I grabbed my heavily worn Bible. I need the Lord a lot, let's just say. The bell stopped ringing, and the world was silent. From across the churchyard, I could see the weighty door being drawn to a close. I sighed again.

It had rained the night before, so there were big puddles all over the place. And puddles turn into mud when you have dirt streets. Now when you're in a hurry, you run. It's just human nature. Especially when your Momma, who isn't ashamed of much, gets all red in the face when you walk in after the hymn.

So I got distracted by trying to hear if the congregation was singing, and I slipped right down into one of those mud puddles.

Doing the only thing I could do in such a circumstance, I got up; cleaned off as best I could (which wasn't very good considering it was wet mud), then opened up one of the heavy doors just as everyone finished off on "Blessed Assurance".

Now maybe it's a habit, but despite the fact that all of our 37 church members knew it was 'Liza Mitchell standin' in the doorway, all the pews creaked with jolt and all 74 eyes were on me, except Momma's that is. Bro. Isaac Carter, our pastor, motioned for me to take a seat as he stepped up to the pulpit and opened his Bible. When he did, Momma slapped my leg and whispered, "This beats all Eliza Mae."

I listened in church as Bro. Carter preached his sermon; I always listened.
Unlike Louisa, my sister, who spent the whole time givin' Lincoln Briggs the flirty eyes. Momma didn't notice. She never noticed anything that her precious older daughters, Ellen, Louisa, and Dahlia did. It was always me, partly because I wasn't like them, but mainly because she watched me closer due to my bad reputation.

When Bro. Carter said Amen; we all opened our eyes at the end of the service. The Marshall family stood beside him at the base of the pulpit; sweet Isabella, front and center. Her chocolate ringlets bounced on her shoulders as she turned to face our pastor.

"Everyone, I'm delighted to announce that Miss Marshall here, heard from the publishing company in Louisville yesterday. For those of you who didn't know, she sent in a volume of poems she had written a few months ago and they are considering publication. On behalf of the entire Marshall family here in Curfew, I suggest we all meet at the train platform tonight to see dear Isabella off on the evening train." Hearing the news, I had to have been happier than all the people in the world combined, even though the congregation rang out in applause echoing over the hills and valleys for miles around.

~*~

That evening, the whole town was gathered on Main Street to watch the train pull away; surely taking Isabella Marshall into her perfect destiny. It wasn't like this sort of thing happened all the time. In fact, nobody in Curfew had every really gone anywhere in their lives, so this was a special occasion.

Her cerulean eyes scanned the crowd and her dress the color of harvested wheat, rustled as she made her way up the platform. She was 16, but her youthful smile made her age a mystery. Her lace-gloved arm untangled itself from her father's grasp and she stepped onto the train as the whistle blew. It didn't all fit, such an elegant lady, disappearing into that cold black beast. Only later, would I understand why it felt so wrong.

~*~


Now I'd had dreams of becoming a writer for years, even before I knew Isabella did too. There was just something about it that called to me. But I knew I would never have the chance to be sweetly applauded in front of the church nor seen off with the whole town in awe. My only chance of making it in writing was on my own.

So that night, while everyone else in town was busy thinking of Isabella Marshall, I was up in my room, the room that I'd wrecked the morning before, writing. I hadn't ever had a passion before, but in that moment, as whispers of "Isabella" drifted into my loft, the most ordinary and natural group of words started forming on my paper. I didn't sleep that night.

The next morning, exhausted and droopy, I dragged myself to school. It was a one-room school, the kind that has one teacher and children of every grade. Honestly, I didn't listen much; I had something more important to do, and I slipped out immediately after the dismissal bell rang.

Momma was taking Dahlia to the tailor to get a dress for her made out of the same fabric as Isabella's. That meant I had at least an hour to get what I needed done. I creaked open the screen door on the back porch and walked into the house.

"I'm home!" I screamed, just to make sure no one else was. When I got no reply, I snuck over to the loose floorboard in the kitchen floor where Momma and Daddy kept their savin' money. Normally, I wouldn't take from it, but this was an emergency. I got the amount I needed and nestled the jar back beneath the floorboards.

There wasn't a soul in the railroad station except the man at the ticket booth. There's a train that leaves the station twice a day, at 5 in the evening and 10 at night. Most all of the passengers leave on the 5 o'clock train, but I bought a ticket on the 10 o'clock. It was part of the plan.

As I left the station, the church bell chimed. The only times the church bell ever rings is to announce church and to call and dismiss school. Any other time meant something bad had happened. My heart sank as I deposited my ticket into my pocket.

The whole town eased over to the church steps, ready for whatever the news might be. A crowd had already circled the steps, and I stood on the edge. Bro. Carter (who always delivered the news, good or bad) walked up to his podium and lifted his head. A glassy finish covered his eyes. He gulped.

"With a heavy heart I bring this dreadful news. Yesterday evening, the 5 o'clock train out of Curfew tipped off the tracks about 60 miles down the track. The communications were bad, and the train was not aware of repairments being made in the area. Everyone onboard was killed. This includes our dear Isabella Marshall, of whom we were so proud."

For a few long seconds, no one breathed; we owed her that much. Many of the women began sobbing, although some set off for their houses to bake a dish for the family to show their condolences. A lot of the men simply held their hats to their chest and looked up to the sky.

I just hung my head and walked home. I didn't bother telling my family, they already knew. In a small town like Curfew, everyone knows everything within a matter of minutes. As the door to my room latched, I let it all go, and streams of scorchin' tears drenched my face. There was no way to comfort me, she was the heart of this town; she was the heart of my dream.

~*~


I must've fallen asleep because the next thing I knew, moonlight was shining through my window. A newfound courage was bounding through my soul. I had been worried about my plan once I heard about Isabella, but then I realized that this was for her.

I gathered a few of my dresses, some food, and the manuscript of my story. And with the bravest step I'd ever taken; left my house. The town was silent, like it was sleeping with its residents, not that it ever got very loud. I grazed the stable door, and kissed Petunia our cat; glanced toward First Baptist Church, and headed on toward the station.

Taking only memories and leaving only footprints, I departed Curfew, Kentucky on the 10 o'clock train. I was ready to follow my dream, ready to let the world know about a 16 year old girl who changed the way I looked at life without even knowing it, to tell them about how she left Earth too soon and entered Heaven too quickly, about her love for family and fear of God, and her perfect smile… through my words.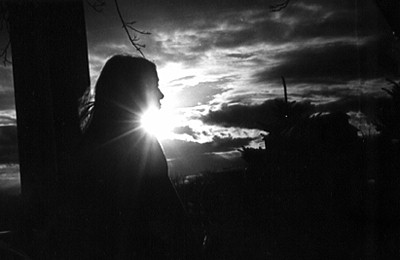 © Elizabeth G., Marblehead, MA