The crazy summer of music
June 7, 2010
Ch.1
I was just looking for something to air up the tires on my bike when they came. I`m not surte who they are but they took me and my baby and put us here and now we cant get back. Some of us have alreadfy lost something, and it ain`t coming back any time soon.
I`ve been in the dungeon to long i`m sorry let me explain. My name is Midnightrose. I am 16 with white hair and grey eyes. The leaders originally wanted to put me in the cery but my menme said no and did what she called a moses trick by putting me in a basket and coming for me when it was safe. I am the first in the farm section to try genetic children and it was very sucsessful. But any way this is what happened so far.
She woke up in a field full of wild flowers and something sweet cookingon a fire. She ttried to move but found she couldn`t she tried screaming to the same affect finally saw who was with her. She saw bright red hair and violet eyes and knew that she was in a very dangerous place because that was the lioness and this was the land of Tortall. She blacked out again after that but she knew what was happening, She was ready.
She woke up in a room full of people staring at her. She found she could move again and looked around for who ever ran the joint to give hiom a piece of her mind. She found him near a giant fire place with a lady and a boy. She didn`t want to intrude but she was mad and started yellin at him until someone slamed her against a wall she saw a wild man with black and grey hair and coal black eyes. She blacked out again but not before she saw her daughter being taken away and her anger grew but she only knew the pain at the timeso she didn`t know when they put her in the absolute worst of places till it was to late.
She woke up in another room full of people but it was smaller and it also had animals in it. She was wondering where she was before she saw their faces and put two and two together and got "S***", she said, "This is not happening." She stood up then but to fast and the blood rushed and made her dizzy she looked around but saw no emotion she was wondering what was wrong wioth ariel when it occured to her to look at the corner across from her and then she knew what was wrong. "No" she was astounded at the cruelty that was forced on these people. So she did what her menme taught her and put her hands behind her head like she was going to pull out twin swords. "Its not going to work" Some one said, she looked over and saw it was Aang and said"Then watch this" she pulled her head up looked to the sky and said the one name that her menme taught her "Crimsonblood" The people just looked at her like she was crazy, but she just smiled and pulled her swords.
Ch.2
There was a bright flash of light and there in her hands were twin swords of a fiery red and white. She said "Armouten" And through them at the bars and they burst into flames and melted away "Don`t underestimate a woman." She said and they left to gather the others.

To be continued.....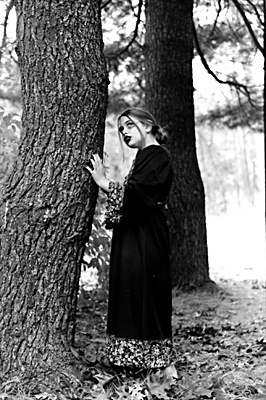 © Pamela T., Norwalk, CT