Last Night
MAG
I woke up with bags under my eyes and messed-up hair. Last night I was up too late. Last night I cried too hard. Last night I sat in the middle of the soccer field during the storm. The rain molded my hair into thick, dripping clumps and glued my clothes to my skin. Last night I made snow angels in the mud and painted my face with clay from under the bleachers.

Last night it was a year since you died.

Last night I sat where you used to sit; I cheered like you used to cheer for me. You never skipped a single game, but now you miss them all. Last night I sang Beatles songs at the top of my lungs as I ran past the ice cream shop we used to go to. Last night I went to your office building and let myself in with the hidden key you showed me. There's somebody else's name on your door now; I saw a different chair at the desk. They have forgotten you entirely.

Last night I skipped on the metal plates in the sidewalk and listened to the echoes, but you weren't there to land harder and louder than me. Last night I walked past the zoo where you used to carry me on your shoulders so I could see the zebras. Last night I tried to bring you back, but all I got were bags under my eyes and lots of messed-up hair.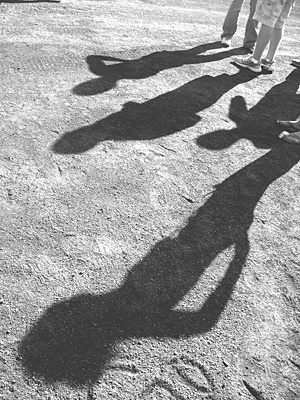 © Trella R., Mountain Lakes, NJ