One Tree Hil
MAG
"It's my life. I'm taking a stand," said James Lucas Scott in the hit TV series "One Tree Hill." Everyone must take a stand in this breathtaking, phenomenal TV show about teenagers growing up in the small South Carolina town of Tree Hill. They rise to the challenge as they face everyday problems and tackle terrible conflicts. It is the kind of show that makes you hug your pillow, drop your jaw, and widen your eyes for total "OMG moments" and laughs.

The setting is incredible, but it is the characters who make it so realistic and fantastic. Lucas (Chad Michael Murray) and Nathan (James Lafferty) are half-brothers who were rivals until they had a change of heart through the struggle of their daily lives living with their evil father, Dan (Paul ­Johansson). This united them as best friends.

Together they tackle the basketball season with friends Skills (Antwon Tanner) and Mouth (Lee Norris). Nathan falls for Haley (Bethany Joy Galeotti), who is also Lucas's best friend, while Lucas struggles to choose the right girl among Peyton (Hilarie Burton), Brooke (Sophia Bush), and Lindsey (Michaela McManus). With all the struggles, Nathan and Haley's son, James, shows each character the good side of the world.

The plot follows these characters from freshman year to the end of high school, and then takes you four years beyond as their lives take new twists and turns. There are many antagonists and protagonists. Dan is a murderous father who tries to reunite with his family, which gives the plot a bit of a shake.

Nanny Carrie, the creepy babysitter who wants to kidnap little James, makes chills go down your spine. However, ­Haley and Nathan would never let anything happen to their son, even if it means holding him in their arms all the time.

Lucas is a character who can change but still manages to ­always get into some sort of trouble, whether with his love life, his high school basketball team and its coaching responsibilities, or just his choices. But the people around him get him through it.

Brooke is another character who is just as nice but creates drama anyway. Through all her troubles, though, she learns not to stoop to her enemies' level. Owning a successful clothing line is hard, but Brooke manages to stay strong. She is one of the funniest characters, who loves to make everyone smile, including herself.

It's not just the great cliff­hangers and long-awaited scenes that get you into this show. It is the heartwarming moments, and lessons you learn as you watch. It's the perfect drama/comedy to watch Mondays at 9 on CW. If you're a fan of drama, want to have a good laugh, and are always ­impatient for the next episode, then "One Tree Hill" is ­definitely for you.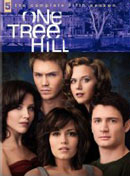 © Anonymous