Odelay by Beck
June 16, 2019
Distraught by the unexpected success of Loser and the resulting dismissals of him as a "one-hit wonder" and "self-indulgent fake", Beck Hansen seemed to instantly retaliate in the best way possible by releasing the classic Odelay only two years later. Of course, it didn't quite happen like that. When Odelay finally did arrive, it was the product of several personal tragedies, a couple more predominantly acoustic albums (one of which was eventually abandoned, though its "Ramshackle" wound up being Odelay's closer), and many intentionally bizarre concerts (including one where the drummer in the band backing him set his cymbals on fire), but boy, was it worth it.
Bigger, longer, and ultimately even better than his first really well-known album, Mellow Gold, Odelay benefits from a more coherent, layered, and accessible sound thanks to the Dust Brothers' superb production. However, despite containing (relatively) radio-friendly smashes such as "Where It's At", the album could not be any less of a pop sellout. In fact, it actually shows Beck at his most boldly experimental, casually playing around with folk, techno, jazz, rap, and other genres like it's nothing at all while not neglecting the classic tunes; if the infectious "Devils Haircut" and haunting "The New Pollution" don't immediately turn you onto Beck (or at the very least, his quirkier, less serious side), nothing will.
While Beck unfortunately never managed to maintain the same level of creatively eclectic energy after Odelay (though he has bounced in and out of the mainstream with more low-key releases such as 2002's Sea Change and 2014's Grammy-winning Morning Phase) the album's everlasting hip appeal and substantial impact on future breakthroughs ranging from Wilco's Yankee Hotel Foxtrot to Fatboy Slim's You've Come A Long Way, Baby make it absolutely unmissable for anyone craving something just a little different to put on for friends or parties.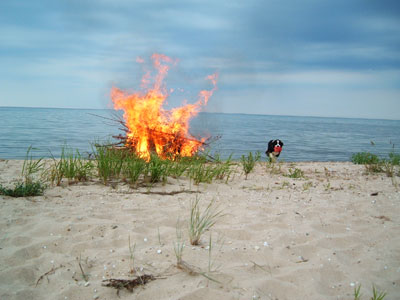 © Hilary L., Rogers City, MI