Eighth Grade
MAG
August 3, 2018
Remember that time in eighth grade where extreme awkwardness hovered over your life like a storm cloud? Thanks to Bo Burnham's directorial debut, I was able to live through my intense suffering from the last year of middle school that I wished had been left in the past. "Eighth Grade" creates a clear picture on what it is like to live in the millennial generation during adolescent school years: Snapchat filters, cringe-inducing selfies, social media. etc.
The film follows Kayla Day (Elsie Fisher), a girl who frequently posts YouTube advice videos, even if she struggles with what she tries to preach. She is awkward, quiet, and tries her hardest to fit in, although she carries social anxiety around in her pocket. From the start, she was a character I completely saw myself in, and I rooted for her to find the voice she was hoping to have. Throughout the film, Kayla struggles with a pool party, a high-school shadowing, and peer pressure. Elsie Fisher is very earnest in her performance and wins over the audience's hearts. Instead of a drop-dead gorgeous actress twice the age of the character she plays, Elsie Fisher is a model for an actual teenage girl – and I
appreciated the casting.
Another scene stealer is Kayla's father (Josh Hamilton) who is extremely relatable in parenting a generation obsessed with cell phones and solitude. My mother turned to me during parts of the film where Kayla is on her phone at the dinner table, ignoring her father, and asked, "Sound familiar?" He tries his absolute best even when he does not say the right thing, which leads to a very genuine parent-child relationship between the two characters.
This film pays a lot of attention to facial expressions and speech patterns, which made it felt even more realistic. It was shot brilliantly and has the capacity to entertain anybody – even older generations who may not be able to relate to a difficult middle school life in 2018. I cried twice during this movie because the characters touched my heart and paralleled so much the life I used to have.
Don't hesitate to watch this amazing coming-of-the-age film. "Eighth Grade" will give you a head-first yet heartwarming dive into the worst year of your life!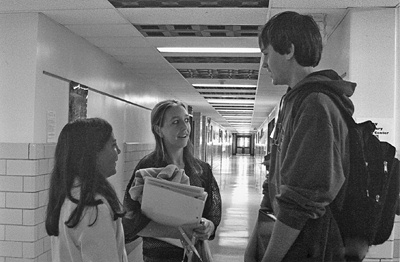 © Kathryn K., Pompton Plains, NJ