Grit. by Gillian French
May 28, 2018
Synopsis (From Goodreads):
His presence beside me is like heat, like weight, something I've carried around on my back too long.
Raw and moving, this contemporary realistic debut novel will leave readers of E. Lockhart and Gayle Forman breathless as it unflinchingly unfolds the tragic secrets being kept in a small, deceptively idyllic Maine town.
Seventeen-year-old Darcy Prentiss has long held the title of "town s***." She knows how to have a good time, sure, but she isn't doing anything all the guys haven't done. But when you're a girl with a reputation, every little thing that happens seems to keep people whispering—especially when your ex-best friend goes missing.
But if anyone were to look closer at Darcy, they'd realize there's a lot more going on beneath the surface. Staying out late, hooking up, and telling lies is what Darcy does to forget. Forget about the mysterious disappearance of her friend. Forget about the dark secret she and her cousin Nell share. Forget about that hazy Fourth of July night. So when someone in town anonymously nominates Darcy to be in the running for Bay Festival Princess—a cruel act only someone with a score to settle would make—all of the things that Darcy wants to keep hidden threaten to erupt in ways she wasn't prepared to handle…and isn't sure if she can.
Plot:
Darcy and her sister Mags, along with their cousin Nelly are blueberry pickers. Every summer they go to the farm, pick as much as they can, from 7am to 5pm, in order to save up. For Darcy it was to get a car (even though she failed her driver's test four times), where Nelly was saving up for cosmetology school. This is how it always been, the three of them. Darcy's and Mag's dad died eleven years ago, after falling off a bridge from a dare, leaving them and their mother, Sarah, alone. Their landlord, Hunt, went easy on them, charging them a rent for basically free. Nelly and Aunt Libby live in the trailer at the edge of the lot, for what the world thought was moral support, but Darcy knew it was just so that Libby can be closer to mock her mother. With her snide comments and backhand jokes, Libby took the town gossip as truth about Darcy, and made sure to tell Sarah at all points of time. After all, how could Libby not make fun of Sarah's life as so far her reckless husband died for $50 and a round of beer, and she had the town s*** for a daughter. Needless to say Darcy and Libby did not get along. With a hazy July fourth memory haunting her, Darcy is faced with the summer of mockery of Shea, looks from Jesse, sibling trouble with Mags, and trying to keep Nelly safe from the secrete last year that almost killed her. Not only that, but with a break in Rhiannon's case, the police are knocking down Darcy's door with questions about her missing ex-best friend. With her darkest secrets coming to the light, Darcy has to be strong as she stands in front of the town as a Bay Festival Princess, showing off her true girt as a small town girl with big secrets.
Thoughts:
Darcy Celeste Prentiss is a girl you had to like. Sure she knew how to had fun, spent most weekend nights getting drunk in a field, and be surprised in the morning to find herself in her own bed. Where she does have some regrets (July fourth to be exact) Darcy knew to how to keep secrets. From Rhiannon and what truly happened to break their friendship. How Rhiannon cold words started Darcy's reputation, one that Rhiannon started to begin with. Then the Shea issue, of the guy who cannot give Darcy a break (whose reason why for his actions are left in the shadows by French), then to Jesse who sees the 'real' her. As Gillian French debuted novel, this shows her skills of her writing as she holds the secretes close to her chest, only to leave you guessing before they are finally reviled. The novel accurately titled Grit as that is what Darcy has: Grit. Moving throughout the summer with her backbreaking blueberry work in the compete to top harvester, defending herself from Libby, standing up to Shea, and defending Nelly, Darcy overcomes her challenges one by one, in French's stellar novel.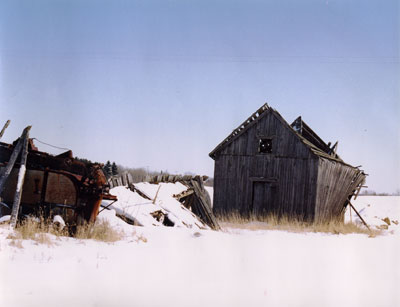 © Grace K., Boon, MI