Speak by Laurie Halse Anderson
January 7, 2011
Speak. Speak because you have a voice. Speak because you have the right to. Speak because if you don't, then who will?
There are so many problems nowadays--most of them involving teens. It is so sad how children cannot grow up CLEAN. Instead, we grow up with things on our minds that should not be there until we are in our thirties, and maybe not even then. Stress and opression. Impossible choices and peer pressure. We grow up with problems that no human being should live with.
We grow, just as any living thing does. Just as a tree or a flower or a plant does. We have scars, dents, guilt all over us, just as that tree that is still growing, still prospering because it has the right to--because you have the right to. But we have to let ourselves do so. And that is not what the protagonist of Speak--Melinda--does. She has to face something so tough--something that nobody should ever go through. And it must have been even harder because she was barely even a teenager when IT happened to her. When IT hurt her. When IT destroyed everything about her, including her voice. But what she does not do is speak about what happened to her. She does not tell someone.
Your most powerful weapon is, indeed, your voice. And when you don't use that, then what do you actually have in your possession to use?
Children and teens and even adults need to know what happened to Melinda Sordino. And luckily, millions do. Speak celebrates a good ten years of changing millions of lives all around the world. So don't hesitate to pick up this book. Please just tell someone. It cannot be stressed enough--please tell someone. And better yet, please say STOP. Do not let somebody hurt you because you did not have the courage to speak up and tell them that you've had enough. Learn to speak. Learn to not be trapped behind barbed wire. Learn to use your voice.
Speak.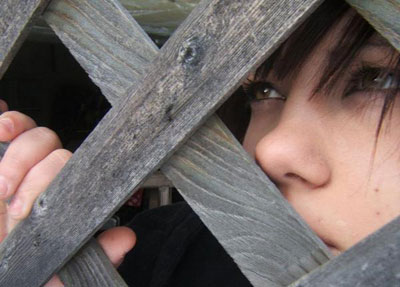 © Krystal B., Bloomingdale , IL