Love is the Higher Law by David Levithan
October 6, 2009
Young adult writer David Levithan (Boy Meets Boy, co-writer of Nick and Norah's Infinite Playlist) definitely covered some new, and familiar, territory in his latest novel, Love is the Higher Law. The book involves three teens who experience the tragic day of Septmeber 11th, 2001, and how their lives intersect over time.
Instead of focusing just on the tragedy itself, Levithan transcends into the hearts and minds of his characters. For the character of Peter, a gay, music loving young adult in college, Levithan really captures of the feeling of being a teenager. Peter is someone who loves music; essentially, it's his escape, especially after the tragedy on September 11th. And Levithan beautifully captures that love when Peter ends up at a concert, where not only does he make the reader feel as if he can hear the screaming and shouting of all the fans, but also makes the reader understand Peter himself, and why music is so important to his life.
The two other main characters, Claire and Jasper, deal with the tragedy in their own way. For Claire, she focuses on the world and why it runs the way it does. Jasper, a lazy, laidback teen has deep discussion with Claire, which not only gives him a wake up call, but the reader himself.
As with most Levithan books, this one has a few gay characters. Levithan is a master of originality, for no one could have predicted a book about the 9/11 tragedy would also describe the lives of a few East Coast gay relationships. That might have something to do with the fact that Levithan himself is gay, but that's not the point. The point is the originality; we have yet to find another book like this, and probably won't for a very long time.
Despite the heavy subject matter, Love is the Higher Law is surprisingly humorous and uplifting, whether it be through Jasper's antics or Claire trying to figure out the world in which she lives. This book, along with the rest in Levithan's collection, will ultimately bring joy to the reader.
Trust me. This is a book that one will regret reading.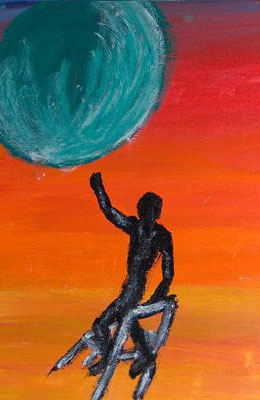 © Maegan F., Harrisburg, NC