Flawed
February 15, 2019
One of Ahern's latest novels, Flawed, is a little different from her usual plotline; a dystopian romance with a very disturbing yet somewhat realistic twist.

From beginning to end, I absolutely loved this book, as it was a fast-paced and addictive read from the very first page.
Firstly, I absolutely loved the main character; a seventeen-year-old girl, seemingly perfect, living in a society where people are judged by a court on their actions. Although this fictional system is not law, the pressure on the people of the country to live by moral decisions or face being branded as flawed for all to see is a terrifying and gripping concept.
Secondly, my point above; a thrilling setting in a future society where each fends for themselves, or risks being deemed a failure to humankind.

I absolutely loved Cecelia Ahern's Flawed as it was the right balance between frightening futuristic politics and YA impossible romance.
I finished this book ridiculously quickly, and I already have the sequel ordered. I definitely found no flaws...
Please leave your thoughts on Flawed below, or leave me some title recommendations.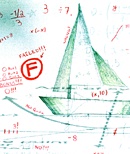 © Steven R., Binghamton, NY