Puppeteers
February 21, 2018
These wooden arms don't feel like mine,
but phantom limbs still move in time.
I touch my own face; I feel nothing,
hoping for a sensation or something.
These puppet strings keep me in line,
only control I've got is in my mind.
Because they make like shackles,
imprisoning me and my drive,
what makes me feel alive,
motivating me until I die.
But I've got to fight for my life,
my dreams,
myself,
so they don't put me back up on the shelf.
I've got to escape.
I've got to fight.
I've got to run
just so I can survive
I need to get free.
I need to be me.
I need to leave
these puppeteers controlling me.
Oh no, I can't shake them
because my mind's been taken.
They've got me breaking;
my confidence is shaken.
Everyday stresses control my thoughts;
my sanity is constantly getting shot
up out of here
already lift off.
And when I crashed back to the Earth,
I became a changed man, rebirth.
Emancipated from my sins and distractions,
tired of being consumed so I attacked it.
Sick of them speaking for me,
they aren't my ventriloquist;
They can't steer me around
like I'm a marionette.
It's been so long, even I forget
Who I was before I became their puppet.
So I beg please, please, please
cut me loose; let me be.
From all of the pain inside of me,
I long to be free.
Break my chains
up in my brain.
I will never be the same.
So I beg please, please, please
show me the path to liberty.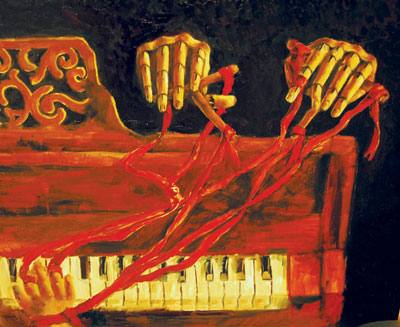 © Bonnie S., Fremont, CA