We are the Champions
June 9, 2014
I've payed my dues, time after time. I've done my sentence, but committed no crime. And bad mistakes, I've made a few, I've had my share of sand kicked in my face, but I've come through.

I just need to go on, and on, and on, and on…

WE ARE THE CHAMPIONS,

my friends,

"Mommy? Where did daddy go?" said the first brother as he sat curiously in the kitchen chair, next to the side where his other brother sat. The mother chuckled and walked over to the younger who had asked the question, "Don't worry, little Alan. Daddy will be back soon! He has to work late tonight. He should be back soon!" she said as she plopped smash potatoes onto both of their plates.

AND WE'LL KEEP ON FIGHTING,

until the end.

*POUND* *SMASH* *CRASH* "Honey, what's wrong?" the mother yelled. The two brothers were startled and came running down the stairs in their cute little footie pajamas, seeing their mother and father in a panic. The older brother gasped as he noticed some blood on the father's shoulder, "What's going on?!" the mother started to panic more as he began pushing the two back upstairs, "Go, you two! Go in the attic and wait for mommy and daddy!"

WE ARE THE CHAMPIONS,

we are the champions,

The guards came bursting into the attic as the family waited fearfully alone in the dark until the shine of a flashlight was thrown inside and they charged at them, two guards holding the mother and father away, the younger brother felt devastated, "No, mommy! Daddy! Come back! Please!" he screeched as they were starting to be tugged out of the attic, the older brother starting to do the same.

NO TIME FOR LOSERS,

because we are the champions,

The younger cried more and more and screamed louder as his face turned red as he kept on pushing to feel her mother. The mother did the same and started struggling to have her child back. They both screamed as the guards just pulled them back more and more, pain on their wrists, the younger had one last scream until he was tired out, "MOMMY!!"

OF THE WORLD…

The younger brother cried and cried as he was coughing and wheezing roughly and his throat scratched up. He was out of breathe, he couldn't breathe from the crying, he was alone in the attic with a guard pushing him onto the ground with a foot on the child's chest. The kid tried to push the foot off of him, but it was no use… He couldn't do anything and he cried quietly on the floor, wanting his mommy back…

I've taken my bows, my curtain calls. You've gave me fame and fortune and everything that goes with it, I thank you all. But it's been no bed of roses, no pleasure cruise, I take it as a challenge from the whole human race, and I cannot lose!

I just need to go on, and on, and on, and on!

WE ARE THE CHAMPIONS,

my friends,

Years have passed, he was an adult now. They killed his family. All of them. They liked to watch him suffer, didn't they? That was the only reason why they took him, wasn't it? Just to watch him cry and bleed out of his face from mental and physical torture? Was that the only reason why he was still alive and not dead with his family? He wasn't gonna take this anymore!

AND WE'LL KEEP ON FIGHTING,

until the end.

I pounded against the cage so many times, and finally, they found me, busted out of my cage out of so much force, my fingers were practically broken and bleeding out of each corner. I was breathing so heavily right now I was going to throw up. But, instead, I fought as they shot at me. Dodging, getting hit here and there, but I killed them, brutally, by stealing their guns and moving on.

WE ARE THE CHAMPIONS,

we are the champions!

I ran down the halls and finally found the owner of this prison's office. I kicked down the door and simply used the machine gun to blast his face before he could react, and then his stomach out after I toppled onto him and did it until I was out of ammo. But, then the alarms went off, and I started running down long and nauseating corridors, and soon I was blocked off from behind and in front of me by guards with more machine guns.

I jumped out a window beside me, but my legs were already being shot at and torn apart. I started to fall, I crashed, broke my arm flat, and my body covered in holes and red blood being washed and pulled out of me into a nearby sewer grate and I layed there in the rain, staring upon the sky, letting the rain drown me in revenge.

I screamed…

NO TIME FOR LOSERS, BECAUSE

"WE ARE THE CHAMPIONS!!!"

I died smiling.

I did it for mommy.

Mommy, I'll be with you soon.
I love you.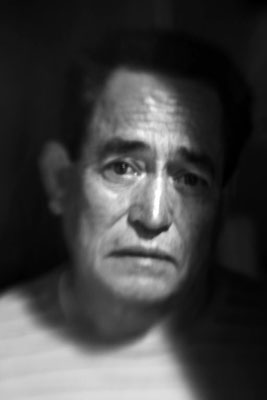 © Adam P., Goleta, CA