6ixth Sense
August 11, 2012
Can you feel it?
It draws nearer...
Can you hear it?
Becoming clearer...

My minds eye is open wide.
Creating misfortune. The Apocalypse is nigh.
I try and try to not look, but it's there.
It looms.
It tells me all must end.
It's just around the bend.
I try and try to prevent this nightmare.

Come with me tonight.
The sorrowful sight
dissolves my eyes and it tells to die.
Awaken the sixth, and never be scared.
Even though I won't be there.
Tonight, we die.

Psychotic tendencies.
They take the wheel. They envelope me.
I try and try to ignore them, but they're there.
They scream.
They try to break my will.
They try to make me kill.
I try and try, but I'm starting not to care.

Fall into your fate.
Embrace the hate.
Accept your destiny. You can't escape.
Awaken your sixth sense, and have no fear.
Even though I won't be here.
Tonight, we die.

Beautiful night. Losing the fight.
Lead me into darkness, 'cause there is no light.
Screaming at me. Tells me to leave.
But I just can't because the taste is so sweet.

Never closed my eyes.
A fate worse than death.
A sea of lies.
A personal Hell.

Unending. Descending into the pits of my mind.
Controlling. Revolting parasite. It's taking my life.
My sixth sense is fading. Yours is barely awake.
You must learn to save it. Everything could be at stake.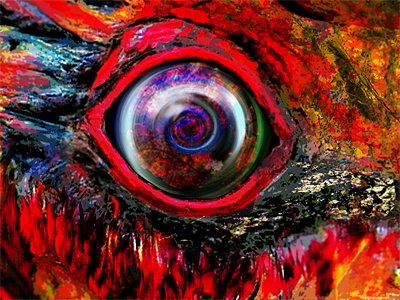 © Tom M., Philadelphia, PA