This Vortex
October 17, 2011
I sit here staring
At the wall. Voices near me
swirl up to my ears.

They laugh and they shriek,
But I take no part; just blink
And breathe; drown out the

Noise to static. All
This happening around me
And yet, I am still.

Their laughter only
Cuts me deep. Their smiles
Make me want to retch.

How they can feel joy
Is astounding to me. Not
Knowing the horrors

That which surround them.
The horrors inside of me.
These things tearing me

From the inside out.
Thrashing and overwhelming,
It will soon take me.

These people, my peers,
Go on with their lives but I'm
Trapped in this vortex.

Pounding starts behind
My eyes. Building until I
Can't take anymore.

My lips never once
Move, and my eyes slowly shut.
Darkness consumes me.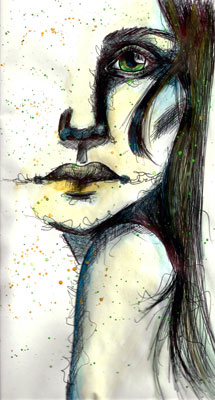 © Kelly B., Wichita, KS