Sweet Tooth
March 27, 2018
Rays glisten through the clear glass.
Soon, street sounds fill the air.
A new day commences.
A boy races down the street,
coins clanking in his pockets.
My sweet butterscotch soothes his taste buds,
and smells of the Milwaukee River linger
in his clothing's fibers,
exposing his sweet tooth for adventure.
Two teenage lovers stroll along the sidewalk,
filling ears of locals with giggles.
Scarlet cherry candy sticks compliment the
aroma of roses from the night before.
St. Josephat's alabaster walls sparked their technicolor romance
and fulfilled their sweet tooths for endearment.
A somber soldier marches to the door,
click-clacking against the brick sidewalk.
Peppermint attempts to distract him
from the nagging stench of spilled blood,
and the throbbing of his sore limbs
that fuels his sweet tooth for freedom.
An aged working man trudges through the shop.
His thick German accent masks the bristles of his beard.
Reminiscent butterscotch combats the taste of whiskey and
the overpowering, everlasting smell of Red Star Yeast.
His limp fingers struggle to place the coins in front of me,
desperate to satisfy his sweet tooth for relief.
'Closed' reads the sign on the window.
The world outside lays to rest.
Another day retires.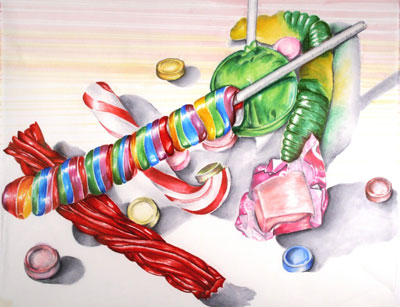 © Jamie B., Fairport, NY