the shapeshifter
March 18, 2018
don quixote
compared me to sunrises
and pleasing petals;
divulged moonlit dreams
of riverside picnics
and toddlers who resembled
the galaxy–
children who carried our stardust,
beamed with more effulgence
than the sun at high noon,
and marveled at chondrites
through coffee, crescent moons.
he carved my initials
into pine colored flesh–
the left hemisphere
of his headrest chest;
hemmed in the letters
with chainlink fence
and ringed my finger
with the rest.
he presented a gift
at the gates of adulthood–
18 yards of red ribbon, and
18 hymns of praise.
i strung the notes together;
hung the banner
from ceiling beams
with adhesive ignorance;
climbed down from my mattress
and apprehended the horror–
vacated flesh with familiar breasts
dangling from exposed rafters,
excess ribbon pooling on bedsheets
like a virgin's blood on wedding night.
i had attended the lynching
of my innocence.

he, "the nice guy"
he, "the type who wouldn't do that" guy
had seized my skin
with rapacious fists.
nobody suspects
the shapeshifter.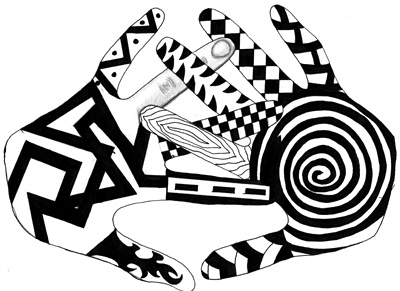 © Sarah F., Naples, FL