Spring
January 23, 2018
The world is waking.
The rushing river flows again, powerfully breaking the thick ice holding it captive.
Trees sway in the wind, putting out their leaves for the coming year.
Plants grow. Snow melts. Green peeks through white.
The birds return and fill the scene with music retelling the tale of their last migration.
Animals begin to scurry about. Young ones appear, being introduced to the world.
Color is being painted into a world of black and white.
The air is cool and brings the scent of rain.
Musky and damp, yet refreshing.
You take a morning walk, observing the world come to life once more.
Movement catches your eye and you turn to see
A doe guiding her young fawn through the forest.
The doe looks up and meets your eyes.
A moment of silence, a heartbeat of understanding.
Man and nature, hand in hand.
You look up. The sky is endless.
Complex, fluffy clouds painted against a blue canvas.
You could stare for hours
Looking for all the pictures in the clouds.
You can feel the life stirring about.
You sit with your back against the strong wood of the willow tree and read
The tree's sweeping branches sway in a slight breeze.
The wind gently lifts your hair and toys with it, teasing you.
You wish you were a bird
So you could fly far away.
Away from the prying eyes of mankind.
You fly in your dreams.
Higher... higher...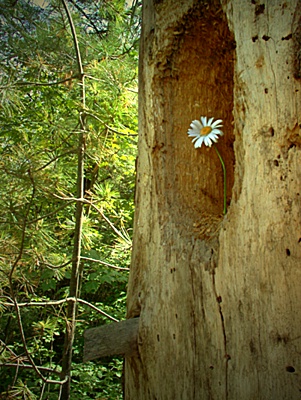 © Anna R, Sudbury, ON, Canada