Torment
November 29, 2017
When someone is nice to you
It means you're alone.
When someone ask you "are you ok?"
It means "you're in pain.''
When someone cheers you on
It means you're weak.
When you're happy,
Someone brings you down
That's' where anger comes in.
It takes over the body,
And hurts the heart.
Its better a fake smile than tell a story
To walk alone and suffer agony
To shatter in tears yet have no regrets
Why tell the truth, when the world is fake?
Why do we pretend to be someone else,
When you can't even express what you feel
How do we live
When we haven't died
How do we teach
When we haven't learn
God gave us the world he created
And yet humanity tries to define him
We scream in pain and in sorrow
But there's no one who answers
We walk in darkness
To find beautiful light.
We wonder around to see what's left
Just to find destruction in the way.
So joy and happiness is futility.
The past self and the future self
Are two different people.
People have secrets behind their smile,
And agony behind their laughter.
People see what they can see
But they can't see what's beyond the human heart.
People lie in this world
To keep their secret from getting reveal to others.
Light and darkness battle each other,
Good and evil fight each other,
Body and soul torture each other
They hit each other yet they never touch…
The heart is covered by darkness,
The mind is surrounded by loses,
The body is made for pain.
People valued the physical,
But ignored the untouched.
We can't escaped the past
Nor ignored the future.
So this is …
Goodbye.
For the time being...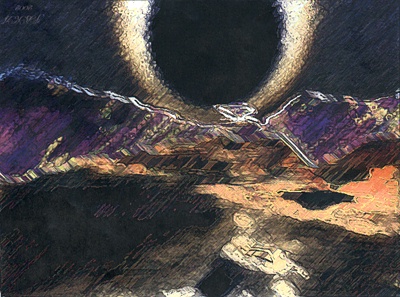 © Jason B., Colorado Springs, CO