Jesus sat on the side of the road
MAG
February 1, 2017
You were the world,
Among the veins that sprouted from my arms
blood began to sink in.
I remember the bitterness of your love,
the embrace of your hatred.
I saw you before you saw me
and yet I still (never) heard us be honest.
The dry, dark demon pries in my eyes.
Jesus sat on the side of the road off 295 South,
I didn't notice.
You ruined the world and everything in it.
I used to laugh,
I would give the third-degree to myself
to make you happy.
I closed my eyes and finally saw
That I would never really be off the wagon.
The filed bottles of heartache and joy confuse me
and so I stand in uncertainty
certain of Everything.
My arms slid down your body, remembering
the way your now iced hands did to mine,
As you dove into the brown, solid earth holding your breath.
Jazzy would've loved you, she used to.
Through curtains of disbelief I still would believe you.
I was chased by your unsaid words,
Letting you hold me hostage,
it was a war of all against all, either to conquer
or to die.
The ringed bottles now held my hand
and I finally realized that
Jesus looked up at me and noticed
what I didn't.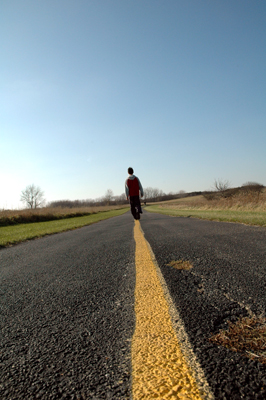 © Seita O., Palatine, IL