Babylon
February 9, 2017
I was a maze without an end.
Little Mary walked through after her white sheep,
the eyes of Babylon steadily watched the innocence overlaid in pink.
From the birds that flew above me,
dead crows laid buried beneath bush walls.
The greens added life and
masked the stench of death.
I heard the crows screech
before they were crushed under my burdens.
The way their soft, stiff feathers popped from their bodies
reminded me of a ripened peach on my tongue.
The dampness of the warm red spilled in my eyes.
I knew nothing of mazes. 
The yellow of the sky warmed my heart.
Apoptosis emphasized in harmon with the oak. 
I looked ahead and saw the past made true.
"I see," said the blind man as he picked up the hammer and saw.
He sawed the only part of me that was strong.
The billowing birds' claws
Continuously sinking into my legs. 
I stood strung up to the tree awaiting the persecution that would
save me. 
I untied the knot, not wanting to be freed. 
To be cursed would bless me
and cause the maze to chase my unattached, beating heart. 
I extended my arms, letting go of nothing.
I closed my eyes to see the darkness
I believed was me.
But then I remembered the silk softness
of the peach resting
on my tongue.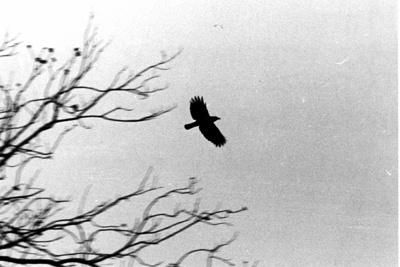 © Jacqueline T., Flowermound, TX